Dareen Abukwaik
Journalism major
West Caldwell, New Jersey
"Leadership is about making others better as a result of your presence and making sure that impact lasts in your absence."– Sheryl Sandberg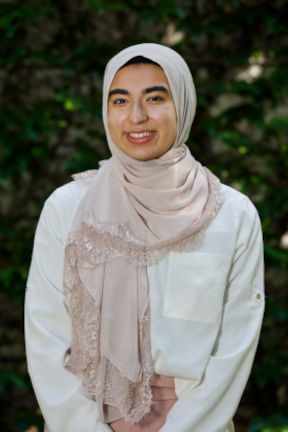 Growing up, Dareen Abukwaik always knew she wanted to pursue her passion for writing through any means possible. Raised in West Caldwell, New Jersey by her Arab immigrant parents, Dareen was taught to seize every opportunity that came her way. It wasn't until her junior year of high school that she realized that there was a lack of Muslim representation in the media on all fronts. "Without seeing people who looked like me in the media, it made me feel as though my story wasn't a part of America," she says. This inspired Dareen to pursue journalism at Seton Hall, to shed a more positive light on Muslim Americans and give them accurate representation. However, it was when she was accepted into the Buccino Leadership Institute that she decided Seton Hall would be the place for her.
Throughout her first year as a student leader, Dareen learned how to cultivate her leadership skills to be more effective as a team member. "The Interdisciplinary Team project helped me realize the importance of speaking up and sharing ideas with my teammates in order to help us achieve our goals," she explained. Without the feedback she received from her peers, Dareen would not have realized the positive impact she brought to the team, such as her dedication and commitment. This has inspired her to take on more initiatives in multiple organizations to be more than just a member of the programs she's involved in.
While her interest in journalism inspired Dareen to join the Setonian as both a writer and a copy-editor, she also decided to join the Leadership Student Council and Honors Student Advisory Board. "I realized that not being the 'leader' of a group does not mean I should limit myself from participating as a more active collaborator," she explained. "I've seen just how one small contribution can make a huge difference." As part of the Honors Student Advisory Board, Dareen has helped plan events and organize textbook drives for the students of the Seton Hall Honors program. And joining the Leadership Student Council as the CommArts cohort representative has given her more of a chance to cooperate with members of other cohorts.
Being part of the Leadership Institute has inspired Dareen to take on journalism in a way she never would have thought of, by taking her own initiative to lead others. "I now feel as though I can be the representation that I was always looking for as a child," she says. Dareen recognizes the privileges she's had growing up and how she can use them to empower others, especially marginalized groups that have been frequently silenced in the media. As a Muslim American woman, she also hopes to prove that they are also capable of changing the world for the better.
Seton Hall Career Highlights:
Competitively selected into the Buccino Leadership Institute
Setonian Campus Life Writer
Leadership Student Council Member
Honors Student Advisory Board Member
Member of the Institute Selection Committee
Student Engagement Ambassador
Member of Honors Program
Member of Educational Opportunity Program