Daniel O'Connor
Journalism major
Hebron, Connecticut
"Leadership in communication means understanding relationships. With the help of the Institute, I will learn how to tell stories that matter to the people who need to hear them."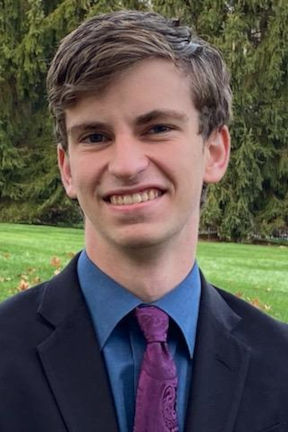 Dan O'Connor was a storyteller from a young age. As he grew, so did his interest in current events and politics around the world. After making a name for himself in his high school as a writer who could make dry stories about school budgets and town meetings interesting, he came to Seton Hall to pursue his passion for journalism and to learn how to effectively communicate important information.
Seton Hall provided Dan access to a wider world of stories and internship opportunities, as well as professors and faculty who would help improve his writing and communication.
Dan tells some of Seton Hall's most important stories for The Setonian, where he became News Editor just as the COVID-19 pandemic took the world by surprise. Covering the University's pandemic response in-depth and taking the helm of the paper's news section as it converted to a daily, all-digital model gave Dan experience reporting breaking stories and leading an organization through crisis. O'Connor is further enhancing his education as a competitive public speaker with the Brownson Speech and Debate Team, where he competes in persuasive, informative, impromptu, and extemporaneous speaking events. "Communications and journalism are a form of advocacy. Seton Hall has given me the resources to channel my passion for communication into messages that will help people."
Seton Hall Career Highlights:
Competitively selected into the Buccino Leadership Institute
News Editor at The Setonian
Member of the Brownson Speech and Debate Team
Member of the University Honors Program