"If you are in a room full of people and you are the smartest one, you are in the wrong room. This is why the Buccino Leadership Institute is such an influential and impactful setting to be in, where students from an array of majors, who all see themselves as future worldwide leaders, interact and grow as individuals as well as cohorts."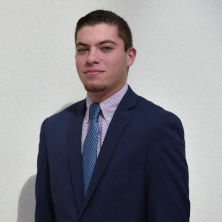 If there is a need to look for someone to discuss sports with, Daniel would be the person to go to. Apart from his previous athletic career, Daniel has always had quite the interest for following sports. "From a very young age, I became engaged in the sports world and would always have ESPN on the TV." Daniel has not let his passion for sports diminish at all since arriving at Seton Hall. He has become a member of the Pirate Sports Network, Seton Hall's sports network, working both on-air and off-air, broadcasting live Seton Hall games. Daniel has also been working in the Athletic Communications Department.
Daniel's college decision was made a little easier since his older brother, Matthew, currently attends Seton Hall as a graduate student. "I never thought I would go to the same school as my brother, but seeing all the great opportunities he was presented made Seton Hall stand out to me." Daniel also fell in love with the upcoming Sports Media program Seton Hall is introducing to the curriculum. The close proximity to New York City and the high success rate of internships and jobs were also important selling point for him.
One of the main opportunities that Daniel was interested in at Seton Hall was the brand new Buccino Leadership Institute. Daniel loved the idea that the School of Communication and the Arts would have their own cohort and he could be one of its founding members. "The idea of being one of the founding members and setting the precedent for future generations really intrigued me." Daniel has always been a leader in the classroom and in sports, always looking to motivate others and influence people's lives. He saw this as a perfect opportunity to grow as a leader and as an individual.
Daniel wants to intern in New York City in a Sports Media position with the hopes of becoming a producer or video editor, possibly for his long-time favorite company, ESPN.
Seton Hall Career Highlights:
Competitively selected to be in the first Buccino Leadership Institute cohort
Correspondent/Producer, Pirate Sports Network
Student Assistant, Seton Hall Athletic Communications Department
Member, Students Sports Networking Association
Has served as an Independent Contractor for Rush Media's Big East Digital Network broadcasts at Seton Hall University
Volunteer with the Big East Conference for the Big East Tournament and Media Day
Leadership Team, Blue Beard Army