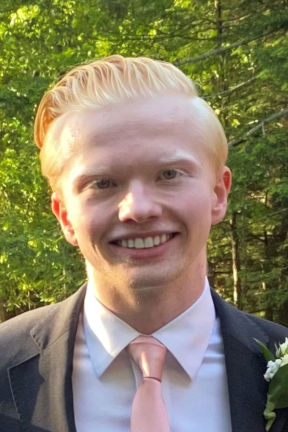 Graduating as valedictorian for his high school in Bushkill Pennsylvania, Connor Dolan was met with the challenge of choosing between several incredible universities; however, upon his acceptance into the Buccino Leadership Institute, Connor knew that he had found his home at Seton Hall for the next four years.
Attending Seton Hall University, Connor is a sophomore, majoring in biology, and is a part of the Joint Bachelors MD program. Through several on-campus programs, such as MEDLIFE, the Biology society, and the Pre-Med Connect organization, Connor is not only receiving a well-rounded education to prepare him for medical school, but he also has a network of friends and educators who support him at ever turn. During his freshman year in the Buccino Leadership Institute, he served as an IDT leader. With the hard work of his IDT team, he led the production of a commercial that advertised the diversity and interdisciplinary nature of the Buccino Leadership Institute to educate and entice prospective applicants by displaying the institute's values.
Along with leading an IDT team, Connor has served on the Art and Science cohort's admissions committee for two years, allowing him to engage with prospective institute students while cultivating his leadership skills. By working alongside his peers in the admissions process, Connor is able to form relationships and mentor incoming students. Through classroom lectures, guest speakers, and interdisciplinary activities, Connor has been able to learn and apply lifelong skills that are essential to succeeding as a leader in the medical field. Working closely alongside his peers and administration, he has created a network of individuals within the institute who desire to help each other become the best version of themselves.
In addition to his involvement at Seton Hall, Connor serves his community as a first responder, working as an emergency medical technician. Gaining experience in the medical field as a college student, Connor is constantly refining his skill in regards to communication, critical thinking, and confidence in decision making while working under high pressure situations. By working as an EMT, Connor has had the opportunity to apply leadership skills, which have been taught to him by the institute, to his experience thus far in the medical field.
With his experiences as a member of the Buccino Leadership Institute and the Seton Hall Community, Connor is reminded daily of the excellent decision he made to become a pirate.
Seton Hall Career Highlights:
Competitively selected into the Buccino Leadership Institute
High School Valedictorian
Emergency Medical Technician
Freshman IDT Leader
Arts and Science Cohort Admissions Committee Member