Colleen Osbahr
Nursing major
Nahant, Massachusetts
"Leading is about having empathy and truly caring about others and what they receive from your guidance; it must be rooted in concrete goals including others, not self-image or self-improvement."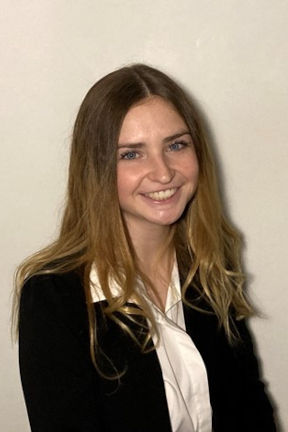 Colleen Osbahr, a passionate and ambitious future nurse, is a sophomore at Seton Hall, determined to make a difference in the medical field. She is working constantly and fearlessly toward her bright future, seizing every opportunity that comes her way. If anyone embodies the ideals of a service leader, it is Colleen. She is kind, inclusive, a good listener, and always brings out the best in those around her. She leads by example and strives to motivate others to reach their goals, which is a crucial part of her future profession. Coming from a small high school where she excelled academically, she has continued to thrive at Seton Hall as she prepares to enter the ever-changing field of nursing. Colleen is always working to improve herself, from her time in high school, practicing servant leadership as captain of the track and cross-country teams, to her college career, joining the Buccino Leadership Institute as a sophomore, tackling the difficulties of nursing school, and gaining hospital experience as an underclassman. She is resilient, seeks challenge, and her achievements show nothing less.
Colleen never fails to immerse herself in the environment that will challenge her the most. Throughout her freshman year at Seton Hall, she worked extremely hard, was named to the Dean's List for both semesters, all while working at a local restaurant. Because of her work ethic and ability to adjust to new and evolving environments, such as the COVID pandemic, Colleen joined the Buccino Leadership Institute as a sophomore. Since joining the Institute, Colleen has taken full advantage of the available resources. She is involved in several initiatives and clubs on campus. Passionate about inclusion and helping others with mental health, she saw places to join other great leaders in projects addressing these topics. Joining the Institute's Diversity and Inclusion and Strategic Communication Initiatives, along with a university club, Uplift SHU, this fall, she has met many amazing, motivated people.
In the summer before sophomore year, Colleen continued preparing for her future career by working at a hospital. She eagerly started as a patient observer at a medical center in Massachusetts, striving to learn as much as possible. "I'm so glad that I decided to apply for this job despite the COVID-19 pandemic, as it has strengthened my determination to become the best nurse I can be. I saw the real impact the nurses made and how strongly people rely on them. I can see myself doing that for a long time." The pandemic has been a setback for everyone but Colleen has used that setback as an opportunity to grow and show resilience to adversity. It has also inspired her to help with the extreme disparity in healthcare between different populations. One of her goals is to become a travel nurse, working in underserved areas as well as gaining valuable experience all over.
Colleen is extremely excited about the opportunity for self-improvement and guiding others, available to her at Seton Hall and in the Buccino Leadership Program. She is ready to adapt and take advantage of opportunities to help and inspire those around her. Colleen Osbahr is determined to be relentless in preparing for her future in nursing, bringing about change within the field, and making a real difference in the lives of others.
Seton Hall Career Highlights:
Competitively Selected into the Buccino Leadership Institute
Member of the Institute's Diversity and Inclusion Committee
Member of the Institute's Strategic Communications Initiative
Patient Observer at North Shore Medical Center, Massachusetts
Member of Uplift SHU
Adult and Youth Mental Health First Aid Certification