Christian Smith
Accounting major
Hillsborough, New Jersey
"I strive to become a leader in business so that I can use my position to spread the message of diversity and inclusion for all. I also hope to bring more ethics into the business world and not value profit above doing the right thing. I am confident that the leadership program will give me the tools needed to achieve this."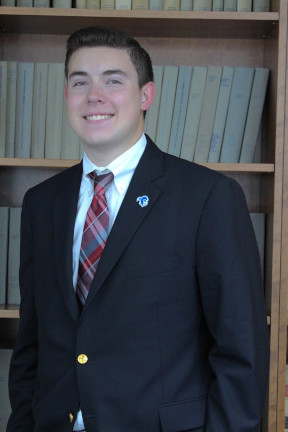 Christian will undoubtedly bring a strong work ethic to any group in which he is a member. He will always do his part in a project, regardless of the role he is given. He will also bring a high standard to his work in any situation, and he will never settle for the bare minimum. Christian is willing to devote however much time is necessary to ensure that a task is done carefully and properly. He takes no shortcuts and completes his work with dignity. Christian also takes criticism very well and is always determined to correct any mistakes that he makes in a project or a task.
Christian proudly emphasizes the importance of teamwork. As a result, he prides himself on his ability to work well in groups. Throughout his life, Christian has been a part of many teams: from sports to group projects. No matter the situation, he was always determined to find a way to work well with all of his teammates regardless of a person's role in the team or personality type. If a teammate has a problem, he will always work hard to achieve a solution through open discussion rather than arguing. Regardless of the group or the role he is given, Christian is sure to fit right into any team.
As a kid living in New Jersey, one of Christian's favorite teams is the Seton Hall Pirates. He was always a big fan of Seton Hall Basketball, watching all the games. Christian always knew that Seton Hall University was the only school he wanted to attend. Because of this, he applied to Seton Hall as soon as he was able. His acceptance into the institution was a dream come true for him. On campus, Christian was a volunteer for the Best Buddies Organization and is a proud member of the PirateThon committee.
Seton Hall Career Highlights:
Competitively selected into the Buccino Leadership Institute
Member of the PirateThon Initiative