Christian Kopecki
Accounting major
Weston, Florida
"Leadership is like the ocean. We don't know a lot about it, but we are learning more and more everyday."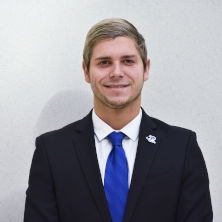 Involved in both academics and sports in high school, Christian Kopecki had been a four-year long member of his school's Pre-Law Program, Swim Team, and Mock Trial Team. As a student athlete, Christian faced many challenges, one of them being a severe injury to his rotator cuff during his junior year. However, after having overcome such hardship, a year later he took the lead as the Captain of his school's Varsity Swim Team, taking them to state championships and winning them two years in a row. "Despite my injury, I knew I had to come back stronger, and as the captain of the team, I had to give the best of me."
When he first began his college search, it was the Seton Hall's Swim team coach who had reached out to him to join the school. "The team seemed like a great fit for me because they had won the Big East conference the past two years." However, it was not until he came across the opportunity to become part of the prestigious leadership program in the Stillman School of Business that he made the final decision to come to Seton Hall. "I was impressed by the program, which ultimately made me finalize my decision in choosing here."
As a business school student, Christian is sure that the leadership program will shape his future in the best way possible, as he would acquire a new set of skills that he can later apply in any aspect of his accounting career. "I want to use all these skills to push myself higher up the ladder."
Following his high school athletic path, Christian is currently a student athlete on Seton Hall's Swim Team. Despite having to prioritize the swim team, he has managed to participate in activities on campus such as the Pirathon Initiative, which helps the Valerie Foundation raise money for children with cancer. As part of his future goals, Christian hopes to work as the CEO of his own accounting firm or return to Florida to take over his step father's accounting firm.
Seton Hall Career Highlights:
Competitively Selected to be in the First Buccino Leadership Cohort
Swim Team