Cassandra Mirarchi
Chemistry major
Oreland, Pennsylvania
"The servant-leader is servant first... It begins with the natural feeling that one wants to serve, to serve first. Then conscious choice brings one to aspire to lead." - Robert K. Greenleaf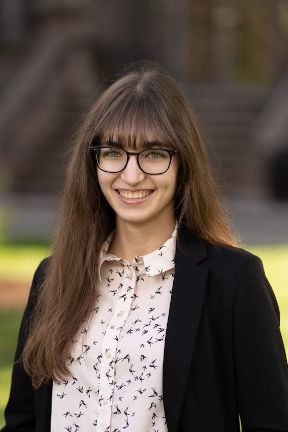 With her commitment to quality work and desire to put forth a full effort, Cassandra Mirarchi is the perfect choice when looking for a job to be done right. She is a highly observant individual, noticing the crucial details that others will often overlook. She usually works behind the scenes, making sure everything progresses smoothly, and truly enjoys lending a helping hand to anyone who needs it. Cassandra believes that the best way to lead is from behind, embracing Seton Hall's emphasis on servant leadership. She is a patient worker, taking the time to ensure quality output, and provides a calm and collected energy to her peers in times of stress. Others frequently rely on her organized and practical nature, and she enjoys using these aptitudes of hers to assist others.
The Buccino Leadership Institute and the University Honors Program were the driving forces behind Cassandra's decision to attend Seton Hall. She felt that these programs would provide a challenging academic experience and inspire both personal and professional growth. Cassandra is engaged within her major as a Laboratory Teaching Fellow, preparing chemistry experiments for students and resolving issues as they arise during the labs. In the future, she would like to participate in research within the chemistry department.
Outside of academics, Cassandra is involved in Seton Hall's theater department. She has stage-managed and worked on the production of several shows, continuing a passion for the arts which she has had since childhood. Cassandra also enjoys meeting new people and has utilized this strength within the leadership program to conduct interviews for incoming freshmen hopeful to join the Institute. This opportunity to help the Institute and engage with new students has been extremely fulfilling for Cassandra, and she is always striving to find new ways of giving back.
SHU Career Highlights:
Competitively selected into the Buccino Leadership Institute
Seton Hall Honors Program Student
Laboratory Teaching Fellow, Department of Chemistry
Show Production Committee Member, Department of Theater
College of Arts & Sciences Cohort Interview Committee Member
Active member of Campus Ministry