Brooke McCormick
Journalism major
Hillsborough, New Jersey
"Being a part of the Buccino Leadership Institute has given me the opportunity to learn and interact with likeminded students from each college as we grow as leaders. Being surrounded by my peers with different interests will ultimately prepare me for leading those different than me after graduation."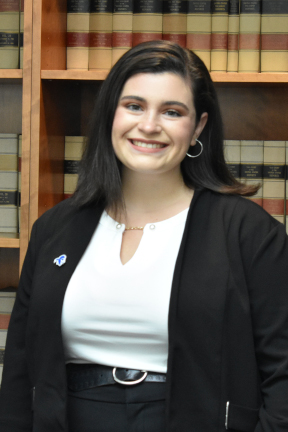 If you are ever wanting to discuss the newest entertainment news, Brooke McCormick is your person. From a young age, she was always up on the latest gossip, often reading her mom's "People" magazines from the grocery store. It was through reading these magazines throughout the years and her passion for writing that helped Brooke determine what she wanted to do with her life—to become a journalist, writing stories about the entertainment industry.
Brooke's goal stayed consistent throughout high school as she joined the school newspaper as a sophomore. While she was assigned a variety of articles, her favorites to write were those reviewing movies and award shows. Brooke stayed at the school newspaper throughout her high school career and was selected to become Editor-in-Chief her senior year.
Brooke's duties as Editor-in-Chief included assigning, editing, and posting every staff writer's story to the newspaper's website. Although she was busy each day, Brooke always found the time to write her opinion on the newest movie release. In high school, along with being Editor-in-Chief, Brooke was also a peer mentor, helping freshmen transition from middle school to high school, and varsity field hockey captain, where she set an example for her teammates on and off the field.
Since birth, Seton Hall University has been a part of Brooke's life; both of her parents and several other family members are alumni. Although she already was familiar with Seton Hall, being selected into the Buccino Leadership Institute was what Brooke said finalized her decision to attend. "During my four years with the Buccino Leadership Institute, I am looking to absorb everything I learn and experience to help me within my future as a leader," Brooke said.
Upon entering college, Brooke quickly looked to join Seton Hall's student newspaper, The Setonian. After writing a variety of stories as a Campus Life staff writer her freshman year, Brooke longed to become more involved; this led her to apply to be the Campus Life Copy Editor. As she entered her sophomore year, Brooke was selected for the position, giving her a head start on using what she has learned about leadership so far.
After graduation, Brooke wishes to combine her passion for pop culture and journalism to work for a publication, interviewing and writing articles about her favorite celebrities. Overall, Brooke wishes to one-day interview Hollywood's biggest stars on The Oscar's Red Carpet. Brooke hopes that the hard work she puts into her academics and her involvement with the Buccino Leadership Institute and The Setonian, she can use what she has learned to propel herself towards her goals.
SHU career highlights:
Competitively selected into the Buccino Leadership Institute
Copy editor of the Campus Life section of The Setonian
News Anchor for Pirate TV