Brigid Benko
Social Work major
Philadelphia, Pennsylvania
"Through Social Work, I hope that one day I can be the reason someone decides to keep moving forward, despite adversity. I hope to help individuals realize their full potential and to share my own passions and fervor for life with those facing extreme hardships. For me, nothing would be more rewarding than helping someone realize their own strengths, much like how the leaders in my own life have helped me in my darkest moments."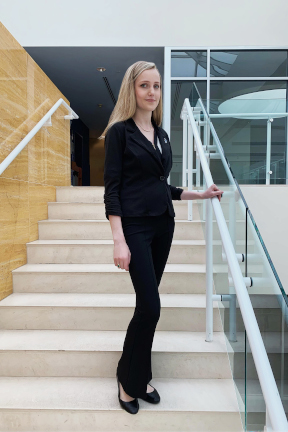 When Brigid Benko stepped on Seton Hall's campus in the winter of 2018, she knew right away that she wanted to be right alongside the scholars, professors, and leaders that she encountered throughout her visit. A native of the Philadelphia suburbs, Brigid's high school experiences at Sacred Heart Academy, an all-girls college preparatory school, instilled within her the confidence to continue her academic journey to her utmost ability.
Brigid Benko's passion for social work stems from her experiences with mental health and loss. At age 15, she tragically lost a close friend to suicide. From that moment forward, she made it her life's goal to do all she could to help others who were facing similar hardships. "Losing my friend was an eyeopener for me," she writes, explaining how during these difficult times, "I had to dig deep to find the strength within me to continue pushing forward." When she learned about Seton Hall's social work program shortly after starting her freshman year, Brigid knew she wanted to turn her passion for mental health advocacy and social justice into a career. "It was a no-brainer," she explains. "Changing your major is never a fun task, but the second I learned of Seton Hall's B.S.W. program, I knew I wanted to become a social worker."
As a member of the Buccino Leadership Institute, Brigid has continued to develop her leadership capabilities. Under the direction of Dr. Bryan Price, Brigid has learned to become more confident in her leadership style. Being a part of one of the most esteemed college leadership programs in the nation has been nothing short of an honor for her, and she's excited to see what the next few years have in store. "I'm not the same person I was when I first walked up the steps of Jubilee Hall, and I'm surely not the same person I will be when I walk down them for the last time," she writes. Brigid believes that leadership is a never-ending process. There is always something to be learned from challenges, both large and small, and Brigid looks forward to completing her B.S.W. with the skillsets needed to help those she will serve with utmost professionalism and compassion.
Outside of her professional and academic life, Brigid is a part-time barista and coffee-connoisseur. She aspires to one day create the perfect cup of coffee. She has three younger siblings that consider her to be one of their role models. She also has three cats, an English-bulldog, and a few fish. When she's not in South Orange, N.J., she can be found either at home in suburban Philadelphia with her family or in a local café.
Seton Hall Career Highlights:
Competitively selected into the Buccino Leadership Institute
Certified Peer Educator in Seton Hall's KNOW MORE Program
Member of Seton Hall's Student Social Work Association