Brendan McHugh
Music major
Yonkers, New York
"The Buccino Leadership Institute has given me the opportunity to improve myself and inspire others. I thoroughly enjoy being a part of this community."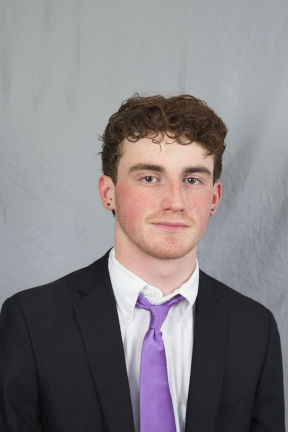 Competitively selected into the Buccino Leadership Institute, Brendan McHugh is a musician from Yonkers, New York making a big impact on Setonia. Here at Seton Hall, he chose to follow his passions of playing the drums and serving the community by majoring in Music Education at the College of Communication and the Arts.
Supporting the Institute's proactive mission, Brendan has gotten involved in several organizations. He is an overnight DJ at WSOU89.5FM, one of the primary drummers in the Pep Band, the percussion section leader of the Orchestra, and the Scholarship Chairman of Phi Gamma Delta. He also is the drummer in local rock band Vode.
Brendan is a Tuition Exchange Scholar and strives to do his best to take advantage of this very unique, once in a lifetime opportunity, "I feel as though laziness is disrespect to those who believe in me, so why not work hard and be the absolute best version of myself." He treats his time in college as precious time he does not want to waste away. The Buccino Leadership Institute is an outlet for him to strengthen his leadership skills and learn from an extraordinarily gifted group of students.
He feels like he is being prepared for success each week and appreciates how much work is put into the Institute by all the administrators, Dr. Price, Staysha Taylor, the assistant directors, and students. One of his favorite parts of belonging to the Buccino Leadership Institute is the chance to make connections & establish relationships with numerous industry professionals as well as other distinguished students. He also enjoys participating in the workshops and getting the most out of this opportunity.
Brendan is a rising star at Seton Hall who is eager to see where his journey as a leader will take him.
Seton Hall Career Highlights:
Competitively Selected for the Buccino Leadership Institute
Overnight DJ at WSOU89.5FM
Member of Seton Hall Pep Band
Percussion section leader of the Seton Hall Orchestra
Scholarship Chairman of Phi Gamma Delta