Brady McIntire
Nursing major
Seaville, New Jersey
"Failure to communicate is one of the leading causes of medical errors. I strive to be easy to talk to and thoughtful with both colleagues and patients to reduce the errors which seem so avoidable."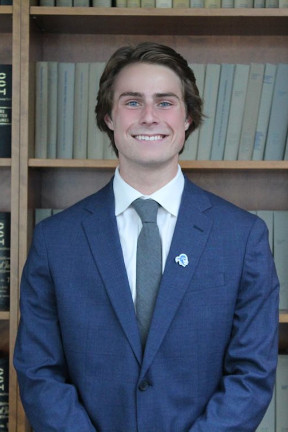 Having a rough week? Need to get something off of your chest? Whether you are a friend, family member, peer, or stranger Brady is always willing to listen. He has always felt that a little empathy can go a long way. Growing up, the detrimental effects of mental illness plagued Brady's local community. Several people close to him fell victim to suicide. Devastated, he witnessed the wounds it left behind. Even as a child, Brady felt the need to reach out to those affected directly or indirectly by mental illness. His compassion led his mother to believe he would grow up to be a psychologist and encouraged his caring behaviors. Ultimately, she was not far off.
While Brady was initially uncertain about which college he would attend, Seton Hall won him over. His meeting with Dr. Katherine Connolly, the Associate Director of the Buccino Leadership Institute from the College of Nursing, and some of the Institute's Nursing students, made him feel that catalyzing his nursing education with leadership would surely help him become well-rounded and lead him to a successful career. In his application, he admitted that he did not think of himself as much of a leader in the traditional sense. With a little introspection, he began to recognize that he inadvertently held leadership roles. As an older brother and he volunteer, Brady served others as a leader. His career goal, aiding others as a nurse, embodies the pillars of leadership. He realized that leaders do not always seek out leadership opportunities, sometimes they are naturally inaugurated.
Brady had searched for a way to help those suffering from mental or physical adversity and has found himself overjoyed with Seton Hall's College of Nursing and the Buccino Leadership Institute. He has also become a part of the MEDLIFE movement, which aims to overcome injustice in healthcare, education, and development. Brady feels that in the field of nursing, the most valuable part of being a student is realizing one's future, and envisioning those they will be able to impact with their education. Adding aspects of leadership to his skill set will further allow him to serve as a role model for his peers and patients.
SHU Career Highlights:
Competitively selected into the Buccino Leadership Institute
Dean's List Fall 2019
Dean's List Spring 2020
Member of the MEDLIFE Movement