"The most important quality a leader can possess, in my opinion, is humility. A leader that is confident in their abilities yet puts his or her followers first is so incredibly admirable."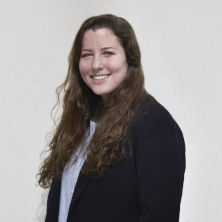 Audrey is devoted to servant leadership and asserts that she loves doing it because "you get to work directly with people and see the positive impact you can have on others." Throughout her time in high school, and now at Seton Hall, she actively participates in various volunteer activities.
Audrey attended Seton Hall because of its proximity to New York City and the bountiful internships and new opportunities available for a journalism and broadcasting major.
Audrey feels that hard work is quintessential to leadership but she humbly accepts that she "still needs to improve on certain things." She wants to learn and grow her capabilities so that her employers receive all of the benefits of her hard work and talent. Although she is interested in developing others, she understands the necessity for self-improvement.
She has been an active member of the Buccino Leadership Institute as well as the Seton Hall Honors Program. She is a member of the esteemed WSOU Pirate Radio Station where she works as a staffer and heads up the Buccino Leadership Institute's weekly podcast, the Seton Hall Undergraduate Leaders podcast.
Audrey aspires to obtain an internship at NBC within the next year and strives to be a writer or a producer for a mass media organization in the future. Her skills are bolstered by her participation in Seton Hall's Pirate Radio and general hard work toward a goal she's passionate about.
Seton Hall Career Highlights:
Competitively selected to be in first Buccino Leadership Institute cohort
Seton Hall Honors Program
Servant Leadership Program
WSOU Radio Station staff member