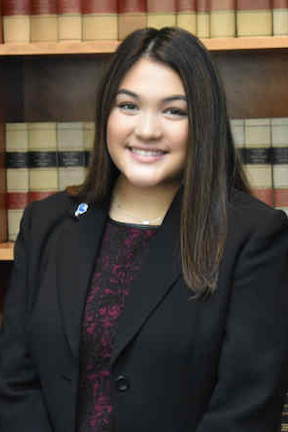 "For me, I am driven by two main philosophies: know more today about the world than I knew yesterday and lessen the suffering of others. You'd be surprised how far that gets you." - Neil deGrasse Tyson
Ashley Postaski is an aspiring, enthusiastic Seton Hall pirate at the College of Arts & Sciences studying Biology and Medical Humanities in the 7-year Joint Bachelor's/M.D. program. She was also competitively selected to attend the Buccino Leadership Institute, the nation's premier leadership institution. She grew up in Westfield, New Jersey, where she attended the highly prestigious Union County Vocational Technical Schools.
From an early age, Ashley has shown an affinity for the sciences and a desire to serve her church and community. Growing up, she was a religious instructor, senior peer minister, eucharistic minister and aided in the organization of retreats and volunteering events in her community. During the COVID-19 pandemic, she organized a mask drive where volunteers handcrafted reusable face coverings for underrepresented populations. Ashley is the embodiment of a passionate leader who gives back to her community. Her innate affinity for service is one of the many reasons she plans to pursue a career in medicine.
Aside from her love for service, she also has an unwavering quest for knowledge. Ashley attended the National Student Leadership Conference at Harvard Medical School, where she honed her leadership skills and learned more about the medical field. At the end of the conference, Ashley applied what she learned and presented a well-received self-led research project regarding toxic chemicals in personal care products and public health. During Ashley's time there, she received an award for her outstanding leadership.
At Seton Hall, Ashley is continuing her research under Dr. Tinchun Chu. Ashley participated in research during the second semester of her freshman year, studying antimicrobial compounds that could potentially replace toxic commercial preservatives in personal care products. Her interest in pursuing a career in dermatology fueled her research involvement. Ashley is also involved in other organizations at Seton Hall such as HuMed (the Medical Humanities club) where she is an executive writer, DOVE (Division of Volunteer Efforts), FLASH (Filipino Institute at Seton Hall), Alpha Epsilon Delta Pre-Health Honor Society, and Blue Crew where she currently works as a student ambassador for both the South Orange and Interprofessional Health Sciences campuses. Ashley is very involved within the Buccino Leadership Institute, where she serves as a writer for the Strategic Communications team. Ashley entered the leadership program with great insight and ambitions. She is known as a dedicated worker and friendly peer, which makes her a valuable addition to the Buccino Leadership Institute. The leadership program has allowed Ashley to learn beyond the classroom and develop skills that will aid in her future career as a physician.
Ultimately, Ashley chose Seton Hall due to the highly distinguished Joint M.D. program and the Buccino Leadership program. Ashley also loved how Seton Hall offers many different opportunities for every student on campus.
During her time at Seton Hall, Ashley has already made quite a mark and has very high hopes for her future. When asked to reflect on her time at Seton Hall, Ashley explained, "Seton Hall has allowed me to expand my knowledge tremendously and gain useful experiences. I am excitedly looking forward to seeing what else is in store for me here. At Seton Hall, I've been able to blossom and pursue all of my passions and cannot wait to have more of these enriching opportunities."
Seton Hall Career Highlights
Competitively selected to be in Buccino Leadership Institute
Sophomore year IDT CEO: Mentorship Initiative at the Buccino Leadership Institute
Member of the Blue Crew
Member of Buccino Leadership Institute Strategic Communications Team
Took part in an independent biology research project
Member of the Alpha Epsilon Delta Pre-Health Honor Society
Medical Humanities Executive Writer
DOVE Volunteer
Flash (Filipino League at Seton Hall)