Ashley Morales
Psychology major
West New York, New Jersey
"Leadership to me is overcoming adversity and using what you learned to help others, not harm them. A great leader is selfless and optimistic."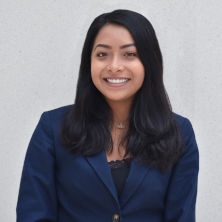 Ashley Morales has always loved taking part in being a leader throughout her life. Both at home and school, she's held countless leadership responsibilities. From taking care of her siblings or giving speeches at state-wide competitions, she is no stranger to overcoming the challenges that life puts at one's feet.
Ashley was born into a working-class family. Her parents immigrated from Mexico and had Ashley at a very young age. Ashley's motivation stems from the success of her parents and is immensely proud to be a first-generation college student. From their experiences, her parents did not want Ashley to struggle like they did, and always encouraged her to work hard.
When the time came to visit colleges, she immediately fell in love with Seton Hall. Some factors that attracted Ashley to Seton Hall are the proximity to New York City, the beautiful campus, the friendly atmosphere, and the rigorous academics. Ashley deeply appreciated the various resources that were available for first-generation students like her. She knew right away Seton Hall was where she belonged.
When Ashley received an email about the Buccino Leadership Institute, she instantly jumped at the opportunity and applied in hopes of gaining more knowledge and experience to help her career. A couple of weeks later, Ashley received the news that she had been accepted into this prestigious program. She was ecstatic as she knew this was only the beginning of a future that was extremely bright. The opportunities that lay in front of Ashley give her the chance to achieve magnificent accomplishments. Her acceptance into the program also made her parents very proud, something that she strives to do every day.
At the End-of-the-year Gala held in May, Ashley was the keynote speaker. She spoke about adversity and how it helped her become the leader she is today. Just this summer, Ashley also completed her first internship in Newark at Bridges Outreach, a nonprofit dedicated to helping homeless people in the area. She also volunteered as a camp counselor at Camp New Day, a week-long summer camp dedicated to providing a positive and supportive environment for individuals with developmental disabilities. Currently, Ashley is leading the mentoring initiative in the College of Arts & Sciences cohort. She hopes to help the incoming Buccino Leadership freshmen succeed in the institute. "I've loved volunteering and helping others for as long as I can remember. My dream is to become a clinical psychologist, and I know that with the help of this institute, I will achieve that dream."
Seton Hall Highlights:
Competitively selected into the first Buccino Leadership Institute Cohort
Director of the Mentoring Initiative for the College of Arts & Sciences Cohort
College of Arts & Sciences Cohort Interview Committee Member
Member of Women in Business
Member of Psychology Club
Member of Adelante
Member of Habitat for Humanity
Active volunteer for DOVE