Ashley Howard
Journalism major
Elizabeth, New Jersey
"Anyone can be a leader, but it takes a certain type of leader to be able to make a difference in people's lives."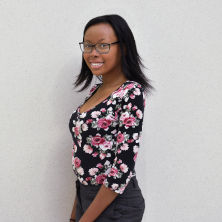 Growing up in Elizabeth, Ashley Howard bonded with her family over a love of sports. From a young age, Ashley and her family loved all different types of sports, but she loved football most of all. "I remember sitting with my parents and siblings just watching football and being so excited to watch the games and how much fun I had enjoying the sport." This love for sports and her own love for writing has led Ashley to pursue a major in Journalism with a minor in Sports Media.
Ashley was attracted to Seton Hall for several reasons. Being from Elizabeth, Seton Hall is close to home, which enables Ashley to remain to close to her family. What attracted Ashley to Seton Hall the most was the leadership program. As a member of the leadership cohort from the College of Communication and the Arts, Ashley is part of the Buccino Leadership Institute's first-year expansion into all of the schools at Seton Hall. Ashley was very interested in the Leadership program because many colleges and universities don't offer leadership programs in Communications and the Arts.
She believes that "the Leadership Institute spanning all of the schools will have a great effect as the program begins to grow and more students come in."
Ashley is looking forward to growing her leadership qualities in the new program. She is eager to learn how to overcome any adversity as a woman and a leader, and become a role model for those who look up to her, especially her nieces and nephews.
"I have several nieces and nephews who all look up to me, and I take this as both an honor and something to be taken seriously." She hopes to grow as a leader and succeed throughout college and beyond so that she can become a suitable role model for them and other people who look up to her.
After college Ashley hopes to secure a job with a local sports organization. She's working towards this goal by participating in the leadership program, Pirate TV, Pirate Sports Network, Students Sports Network Association, and SHU Women in Business. "I hope to push closer to my goal in college by writing and broadcasting for Seton Hall basketball, and looking to intern with a local sports organization, perhaps the New York Giants, New York Knicks, or Brooklyn Nets."
Seton Hall Career Highlights:
Competitively selected to be in first Buccino Leadership Institute – College of Communication and Arts Cohort
Pirate TV
Pirate Sports Network
Students Sports Networking Association
SHU Women in Business