"The Buccino Leadership Institute has provided me with many opportunities, allowing me to expand my network and develop better communication and leadership skills."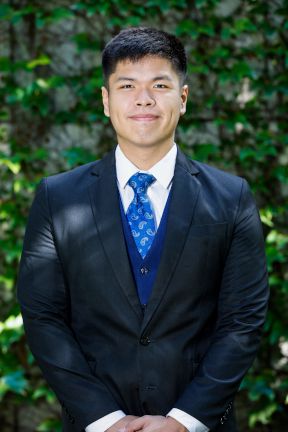 Coming from the other end of the country in a rural town of Alaska, Jr has progressively established himself as a student at Seton Hall University and a member of the Buccino Leadership Institute. As a first-generation student, Jr was not sure if he could navigate college life successfully. From his experiences, however, he believes that Seton Hall has the values and qualities that align with his own which he knows will support him throughout his journey in college. With his passion for numbers and business and the exceptional education offered by Seton Hall, Jr is excited for the development of his professional career as an accountant.
Jr understands that his decision to attend Seton Hall may have come as a huge shock to his friends and family back home. "Many people told me that it might be better for me to study in Alaska, Washington, California, or other places that I was more familiar and comfortable with." Jr knew from the get-go that Seton Hall was the most fitting college for him, from the small class sizes to the rigorous accounting program. This became even more apparent during the first few weeks of his sophomore year when he was able to actually experience college life following the COVID-19 pandemic and see how welcoming and amicable the student body and faculty were.
What really made Seton Hall stand out most to Jr was the business leadership program. With opportunities of expanding his network and meeting like-minded students within his class, Jr was immediately captivated by the program and wanted to be a part of it. So far, he has gotten the privilege to meet with various business executives which have allowed him to work on his soft skills and leadership skills. Jr hopes to further learn how to speak up and adopt a successful leadership mindset.
As someone who loves to stay busy, Jr challenges himself constantly to try new things and stay active on campus. He dedicates a lot of time to activities both on and off campus. As the current SGA Secretary and a participating member in Beta Alpha Psi, Accounting Club, SAB Street Team, and FLASH, Jr is grateful for the many opportunities that Seton Hall has to offer its students. In addition, Jr was competitively selected into the Buccino Leadership Institute and is devoted to volunteering and giving back to the community. "The clubs and organizations definitely prepare students for life after college and allow for students to cultivate the skills and knowledge to be successful leaders."
Seton Hall Career Highlights:
Competitively selected to the Buccino Leadership Program
SGA Secretary
Member of Beta Alpha Psi
Member of Accounting Club
Member of SAB Street Team
Member of FLASH