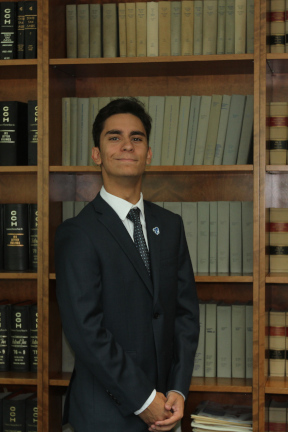 "Leaders are defined by a multitude of traits, such as their humility, emotional intelligence, and decision-making abilities. But above all, a leader must always strive to be a greater version of themselves."
As someone with an insatiable desire to grow and better himself, Anthony Pizzonia is best described as a man who works to get the most out of his daily life. Anthony welcomes every change and experience in life with open arms because he recognizes how any situation can be a medium for personal growth. Above all else, Anthony seeks to learn, both from his own experiences and those of others, to become the best leader and man he can be.
Growing up in Westchester County, New York, Anthony visited and researched numerous universities of all sizes in the northeast region. After months of visits and meetings with faculty at schools, Anthony decided to attend Seton Hall University because he knew that Seton Hall would provide him with ample opportunity for personal development. Ultimately, the uniqueness and legacy of the Buccino Leadership Institute sold Anthony. He saw great value in surrounding himself with the impressive young minds that the program attracts from across the world and the plethora of networking opportunities that the Institute makes available for future professionals.
Anthony hopes to take advantage of all the benefits and experiences the Leadership Program has to offer. An aspiring corporate lawyer, Anthony understands how important it is to cultivate the "soft skills" that are integral to being a successful leader. The practical learning experience that the Buccino Leadership Institute has provided Anthony is invaluable, and he knows that one day in the future he will look back and be glad that he decided to be apart of the Institute.
Throughout his first two years at Seton Hall, Anthony has been extremely active on campus and within the Leadership Institute. He is an involved member of Seton Hall's chapter of Best Buddies, an organization he is proud to be apart of because of the service that the organization does for the special-needs community in Newark. Within the Institute, Anthony is a member of the Team Walker Initiative at Seton Hall, a partnership with a non-profit program in Jersey City that looks to provide a stable environment for children who otherwise might not have one. Additionally, Anthony is a member of the Interview Initiative and Freshmen Onboarding Initiative, two programs that interview candidates for the Institute and get incoming freshmen acclimated to college life, respectively.
Seton Hall Career Highlights:
Member of Seton Hall Chapter of Best Buddies
Member of Team Walker Initiative
Research assistant in the Management Department of the Stillman School of Business