Annemarie Ryan
Nursing major
Pleasant Prairie, Wisconsin
"Leadership has been demonstrated to me my whole life, and I plan to continue my journey being a strong leader and hard worker."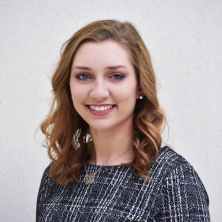 Annemarie has always had a burning passion for leadership. During her freshman year of high school, she started a charity called "Hearts to Hands." This project consisted of knitting countless hats and mittens to donate to her local school, Frank Elementary School. Annemarie states "the idea came from hats and gloves being knit with love and warmth from one's heart. This love is then shared and warms the hands of many others." She was also the outreach leader for the Realize Your Dream program in Wisconsin. In this program, she taught underprivileged children from all over the state of Wisconsin visual and performing arts. The children were very influenced by her methods of teaching them the intricacies of the performing arts.
Annemarie is known as a fighter when it comes to leadership. Her decision to come to Seton Hall University was based off of her attraction to the new leadership institute. She saw the program as "a once in a lifetime opportunity" and is dedicated to pursuing more leadership skills. She also wants to leave her mark on the program itself, knowing that what she does will influence and affect future members. This involves taking risks and chances that can benefit the program to make it even better than ever.
In future years, Annemarie hopes to become a Peer Advisor, where she can lead prospective students in interactive activities and give tours of campus. A current physician's assistant (PA) and good friend, Andrew Cates ('20), is one of her inspirations to keep pushing forward to success in leadership at Seton Hall. He is the main reason she wants to be an PA and is was the person who encouraged her to get involved on campus.
Seton Hall Highlights:
Competitively selected to be in the first Buccino Leadership Institute Cohort
University and Chamber Choir member
DOVE Community Service - Service on Saturday
Saint Paul's Outreach small group member
Intramural Volleyball
Nursing Leadership Pirates Pitch Team