"In my time here at Seton Hall within the Leadership program, I hope to not only utilize the resources that Dr. Price and the other advisers provide to us, but also to be able to create long-lasting friendships and relationships with my peers."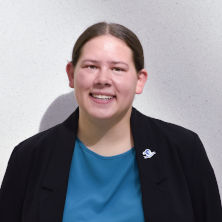 Anna Plank is only a freshman at Seton Hall, but she is already making her mark in the community. She is the co-editor of the Trending section of The Stillman Exchange and a member of APICS, the supply-chain management organization at Seton Hall. Anna is also part of the PirateThon Committee, the Consulting Club, the Accounting Club, ALPFA, and is on Stage Crew.
Anna had many different options for colleges, but she ultimately chose Seton Hall because of the Stillman School of Business and the well-regarded Buccino Leadership Program. "I also came because of the great sense of community in the school that is created through the extracurriculars and the people."
There are many reasons that Anna wanted to become a member of the Leadership Program. She believes that the program offers many resources that other students against whom she is competing for internships and jobs will not have the opportunity to experience. This will give her a competitive edge against them as she begins her career. "I'm in the Leadership Program because I thoroughly enjoy collaboration between individuals and being able to grow from human interaction and experiences."
Anna is also very excited about the opportunities that the Leadership Program will grant her. She looks forward to having the ability to network with many other professionals, which will distinguish her from other students. "I want to also create good relationships with people that I can stay in contact with for the rest of my life."
She is hoping that her involvement at Seton Hall and the opportunities through the Buccino Leadership Program will lead her to an internship in a top-four accounting firm. Once she graduates, Anna aspires to be a consultant at one of these firms.
Seton Hall Highlights:
Competitively selected to be in the first Buccino Leadership Institute cohort
PirateThon Initiative
Consulting Club
APICS (American Protection and Inventory Control Society)
ALPFA (Association for Latino Professionals in Accounting and Finance)
Campus Ministry
Stage Crew
Accounting Club
The Stillman Exchange (editorial staff for the Trending Section and reporter for the Stillman News Section)