"You will never know how to succeed unless you learn how to fail."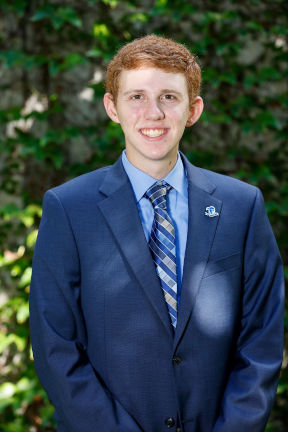 As someone who found a passion for navigating the evolving media landscape, Andrew Raccuglia found something special about Seton Hall University that he could not find anywhere else: the Buccino Leadership Institute, where he had the opportunity to personally develop and refine his existing leadership skills to take with him into the world of broadcasting.
Outside of simply enjoying the art of film, television, and theatre growing up, Andrew started working with the stage crews for his local school show productions in 6th grade. It was his involvement as a stage manager, spotlight operator, and on numerous other jobs behind-the-scenes every year since that gauged his interest to seek a career where he would take part in creating productions for the camera. He was also heavily involved within his Boy Scout troop, where he earned the rank of Eagle Scout for being an active leader on countless service projects and trips for several years. His transformational experiences working behind-the-scenes and in leadership made Seton Hall an easy choice to pursue his career.
The perfect combination of broadcasting opportunities on-campus and in New York City, as well as the ability to become a member of the Buccino Leadership Institute have made Andrew feel extremely fortunate with his college decision, and he cannot wait to see where it takes him. "I know that at the Buccino Leadership Institute, I am where I need to be, because I will always find myself learning more from it," Andrew stated. He believes he is also very privileged for the various connections he has established and strengthened within and outside the CommArts cohort, and they have all become his biggest supporters.
Since stepping foot on campus, Andrew has kept himself busy by becoming a tremendously active member of the Seton Hall community. All the opportunities he has taken have been for the purpose of finding his way to exactly where he wants to go. He has volunteered with DOVE on many occasions throughout the local community, and devoted time to being an active member of Pirate TV, Pirate Sports Network, Pep Band, Orchestra, and the co-ed service fraternity, Alpha Phi Omega. He is also the Assistant Technical Producer of the School of Diplomacy and International Relations' podcast, "The Global Current," and a staff writer for multiple campus newspapers such as The Setonian and The Stillman Exchange. Andrew is more than happy that he can be as involved as he currently is, and he knows that all the academic, social, and extracurricular opportunities he is experiencing right now will enrich him to become a better leader.
Seton Hall Career Highlights:
Competitively selected into the Buccino Leadership Institute CommArts cohort
Assistant Technical Producer of "The Global Current" Podcast
Active Member of Pirate TV, Pirate Sports Network, DOVE, Habitat for Humanity
Staff Writer for The Setonian, The Stillman Exchange, and The Diplomatic Envoy
Member of the Honors Program
Member of Lambda Pi Eta (National Communication Studies Honor Society)
Member of Alpha Phi Omega
Trumpet player in Pep Band and Orchestra