"There may be times when we are powerless to prevent injustice, but there must never be a time when we fail to protest." – Elie Wiesel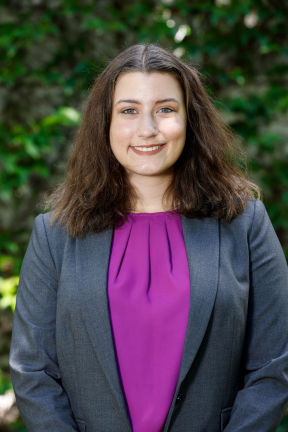 To Andrea, the most important component of leadership is how one chooses to use the skills that they have developed. She believes that the true mark of a good leader is not how much conventional success they find, but how they hone their skills and talents to unify individuals and promote positive change. This foundational belief and its alignment with Seton Hall University's dedication to servant leadership directly impacted her decision to attend SHU, along with her competitive selection into the Buccino Leadership Institute. Annie knew that the opportunities provided by the institute would be invaluable in her leadership journey, and her acceptance cemented her decision to attend Seton Hall.
The opportunities that she has experienced through the Buccino Leadership Institute in just one year have been invaluable, and the personal and professional growth that she has experienced in just that short amount of time is a testament to the efficacy of the Institute's model of leadership development.
Growing up in the small town of Shrewsbury, Pennsylvania, Annie developed a passion for global affairs and exploring the world. In high school, she served for two years as the student School Board Representative, receiving a board commendation for her work, and earned several local and national writing awards. She spent her senior year of high school interning with a local immigration lawyer, giving her the opportunity to work directly with case research in deportation defense and asylum cases. Her internship quickly grew into a love of law and its capacity to help others, and she plans to attend law school after finishing her undergraduate degree. Her particular interests lie in immigration and advocacy law, and she is pursuing a minor in Spanish to better communicate with those who she someday hopes to help.
In addition to immigration law and policy, Annie is very interested in areas of women's rights, international development, and global press freedom. She currently serves as the Associate Editor of the Diplomatic Envoy, a position that allows her to hone her editing and communication skills, as well as an analyst with The Global Current, Seton Hall's international affairs podcast. She is a student worker at SHU's Office of International Programs, helping international students navigate the F-1 visa process and assisting with study abroad programming and promotion. She is extremely dedicated and passionate about everything that she does, from her academics and extracurricular activities to her hobbies, which include yoga, playing the viola, and spending too much time talking about sports.
Seton Hall Career Highlights:
Competitively selected into the Buccino Leadership Institute
University Honors Program
Writer and Associate Editor for The Diplomatic Envoy - School of Diplomacy Newspaper
Analyst for The Global Current – Seton Hall University's official international Affairs podcast
Women of Diplomacy Leadership Program
Diplomacy Peer Mentor
University Orchestra