"As a member of the new Buccino Leadership Institute, I am excited for the opportunity to further develop my own leadership as well as contribute to a program that has the potential to create great leaders for many years to come."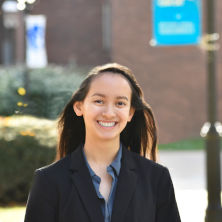 From her West Coast high school days of Future Business Leaders of America, Amy has traveled far to find herself on the East Coast as a member of the Buccino Leadership Institute. Amy has always had a passion for business, but her arrival at Seton Hall marked the beginning of her journey to become the powerful businesswoman she envisions herself as. Fascinated by the human aspect of marketing and how technology impacts both business and regular life, Amy hopes to pursue these passions at Seton Hall and in her professional career.
In choosing to attend Seton Hall University, Amy was hesitant to leave the comforts of familiar Washington, but felt "this opportunity at Seton Hall was simply too good to pass up." Initially concerned with finding a community, Amy quickly forgot these concerns upon meeting the high caliber faculty and students who welcomed her to Seton Hall and the Stillman Business Leadership Program.
Coming to Seton Hall because of the leadership program, Amy found that "a lot of colleges had good business schools, but very few had a place to foster and practice leadership." In the Buccino Leadership Institute, Amy hopes to develop the soft skills and industry knowledge necessary to establish herself as a prominent and successful businesswoman.
Heavily involved on campus, Amy is the Director of Strategic Communications for the Buccino Leadership Institute as well as an editor for the Stillman School of Business' newspaper, The Stillman Exchange. Dedicated to improving those around her, Amy participates in these activities and more to prepare and challenge herself to become a better leader.
Seton Hall Career Highlights:
Competitively selected to be in first Buccino Leadership Institute cohort
Director of Strategic Communications for the Buccino Institute
Tech and Innovation Section Editor for The Stillman Exchange
Business Cohort Interview Initiative Member
Business Cohort Class Representative
PirateThon Initiative Member
Marketing Club E-Board Member