"When I moved onto campus, I never thought everything would happen so quickly. The Leadership Institute showed me the 9/11 Memorial for the first time. My mock trial team travels all over the Northeast for competitions. It's only been a couple of months, but Seton Hall has already opened so many doors for me. I'm happy to say it's been a great first year here."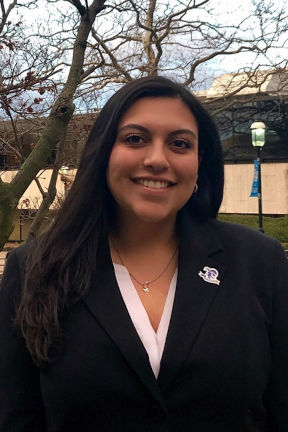 A born leader, Alyssa is the oldest child and has a younger brother and baby sister as she comes to us from Easton, Pennsylvania. Seton Hall had everything she was looking for as a Catholic University that is close to New York. In addition to this, it was the internship opportunities, academic programs, and, of course, the basketball team that drew her to the university.
Alyssa quickly realized the once-in-a-lifetime chance that is being offered here at Seton Hall. She acknowledges the strong connections that have already formed as she credits her mentor and leader Dr. Christopher Kaiser for the valuable opportunities and experiences offered.
Throughout her time at Seton Hall, Alyssa was heavily involved with Seton Hall's Psychology Club and Competitive Mock Trial team. She finished out her senior year of leadership by developing a workshop for leadership students to obtain and sustain confidence, which is what she felt the program has instilled in her the last four years. Alyssa hopes to be a forensic psychologist working with juveniles throughout the criminal justice system in the future. She plans on continuing her studies and is actively applying to graduate schools in forensic and clinical psychology.
Seton Hall Career Highlights:
Competitively selected to be in first Buccino Leadership Institute cohort
President of Seton Hall's Mock Trial
Service on Saturday's Team Leader
Psychology Club
Arts and Sciences Interview Committee (3rd year)
Buccino Leadership Institute Admissions Committee (2nd year)
Thanksgiving Ambassador
Member of Sophomore Discovery Program
Intern with Hudson County Prosecutor's Office, Megan's Law Unit
Interned with Good Grief, Inc.
Interned with CFCPNJ (Center for Forensic and Clinical Psychology of New Jersey in Morristown, NJ)