Allison Lamoureux
Nursing major
Rocklin, California
"The first step in becoming a leader is having the courage to stand up for something."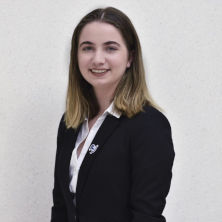 Allison Lamoureux spent the majority of her high school career leading and serving others in various leadership and service organizations. In high school, Allison was an active member in the Interact Club, a community service organization that is associated with the Rotary Club. Allison led the Interact Club as president her senior year of high school. Lamoureux was also competitively selected to attend the Rotary Youth Leadership Awakening camp during her senior year of high school. At this camp, selected leaders underwent activities in team bonding and leadership. In her free time, Lamoureux likes to read and spend time with friends and family. Her family includes her mother, father, and an older brother. Allison became even more inspired to become a nurse after hearing stories about the profession from her grandmother, a former neonatal intensive care unit nurse. Her decision in becoming a nurse was further solidified through the completion of a school program in her senior year of high school -for people interested in health care. She completed her externship at a hospital in the Diagnostic Imaging Department and received valuable experience.
Allison ultimately decided to come to Seton Hall for its "guaranteed seat" nursing program. The nursing faculty were very welcoming and passionate about their field, and the program provided Allison with a direct seat in the nursing program for her four years here. She wanted a school that offered a guaranteed seat in the nursing program, so that she would not have to reapply here sophomore or junior year into the nursing sequence of the program.
Allison applied to the Buccino Leadership Institute at Seton Hall because she wanted to further develop and enhance her leadership skills that she had demonstrated during high school. Lamoureux wanted to build upon her already established leadership skills and become more assertive in leadership situations. Allison also wanted to become more extroverted, as she is an introvert, and have the opportunity to connect with other future leaders.
Allison is currently a member of Blue Crew, Seton Hall University's campus tour guides. She is also a member of the Seton Hall Undergraduate Leaders Podcast and an active member of the Alpha Omicron Pi Fraternity. Lamoureux hopes to work or have an internship over the summer.
Seton Hall Career Highlights:
Competitively selected to be in first Buccino Leadership cohort
Member of Blue Crew, Seton Hall's campus tour guides
Active member of Alpha Omicron Pi Fraternity