"I'm excited to push myself as a leader and to pursue the many opportunities put forth by the Buccino Leadership Institute."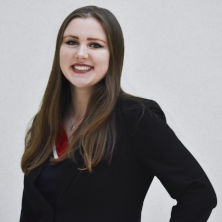 From coast to coast, Aimee proves herself to be resilient and hardworking. In high school, Aimee was involved in various school activities ranging from editor of her school newspaper to the president of the National Charity League. Aimee was chosen to be part of a four year Environmental-Leadership program in her high school, through which she ran her own business, learned public speaking skills, and volunteered abroad. She also played soccer and was named captain of her tennis team. Aimee participated in four internships during high school and was a member in the National Honor Society.
Aimee was drawn to Seton Hall for its criminal justice program and sense of community on campus. When she walked on campus for the first time, she felt the "community sense [she] wanted" in a school. With close proximity to Washington D.C. and the opportunities presented by the leadership program, Aimee knew that Seton Hall University was the school for her.
Coming from leadership roles in high school, Aimee wanted to continue developing her leadership in college. The leadership program gives her the chance to strengthen her current leadership skills and develop new ones. The program offers extensive networking opportunities and allows Aimee to become a better version of herself. Aimee says, "to be a good leader you have to be empathetic and promote change."
Being away from home and family has been a struggle, but Aimee has immersed herself in clubs and activities to feel more comfortable with the change. During Spring Break, she went to Oklahoma City, Oklahoma with the Habitat for Humanity club to build homes for low income individuals and families. Over the summer, Aimee was an AmeriCorps Member at Rebuilding Together San Francisco, where she learned about outreach and communication in a nonprofit setting. As she continues to study at Seton Hall, Aimee plans on studying abroad in South America. She also plans on making more time to volunteer and help others.
Aimee is majoring in Criminal Justice and Social and Behavioral Sciences and minoring in English. Upon graduation, she would like to volunteer for the Peace Corps and work with the FBI.
Seton Hall Career Highlights:
Competitively selected to be in first Buccino Leadership Institute cohort
Habitat for Humanity
Student Worker, Office Assistant, Housing and Residence Life
Member, Inclusion Alliance
Volunteer, Division of Volunteer Efforts
Member, Alpha Phi Omega, Service Fraternity