"The Buccino Leadership Institute has allowed me to flourish as a confident and loyal leader in my everyday life, as leadership is not a role one takes on but a mindset that can be embodied."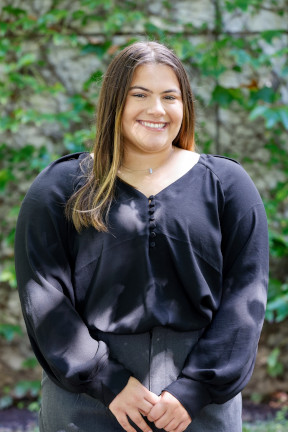 Noelle Vacca is a Communication major and part of the Communication and the Arts cohort in the Buccino Leadership Institute. Noelle grew up in Riverdale, New Jersey, and although only 35 minutes away from Seton Hall University, she knew Seton Hall would be the perfect place to explore her passion for communication and the media field.
In high school, Noelle had the privilege of attending the competitive Morris County School of Technology as a student in the Academy for Design, where she studied both fine and digital art. One of her accomplishments was serving as Head of Public Relations for the Looking Ahead Special Exhibit at the Ellis Island National Museum of Immigration, a project run by her Academy for Design class. She also had the honor of being a two-year president for the National Art Honor Society. These experiences helped Noelle develop a strong work ethic focusing on punctuality, creativity, and problem-solving.
When it became time for Noelle to decide where to continue her education, she knew Seton Hall was the right place. The mission of servant leadership demonstrated that Seton Hall does not view their students as only academic grades. "Seeing the appreciation the University has for giving back and living with integrity and compassion immediately sparked my interest when looking at colleges because those values align with mine," Noelle said. She continued by explaining that she knew that Seton Hall would not just help her grow academically but also become a more well-rounded person in all aspects.
Coming to Seton Hall as a member of the Buccino Leadership Institute has been one of the best decisions of Noelle's life. "It has been an exhilarating experience being surrounded by other students driven toward self and community improvement within the Institute."
As an active part of the Seton Hall community, Noelle is a member of Lambda Pi Eta: Communication Studies Honor Society, a member of the Strategic Communication Initiative in the Buccino Leadership Institute, and the historian for the Seton Hall University Dance Team. Noelle participates in activities that allow her to practice her passions, reach out into the community, and challenge herself to become a better leader.
Noelle is a self-proclaimed lover of all things pop culture, with social media and entertainment being at the core. The College of Communication and the Arts curriculum embraces today's digital culture and provides skills such as compelling writing, articulate public speaking, and effective interpersonal communication. This education will allow Noelle to gain a specialized skill set that will let her break into the media field.
Seton Hall Career Highlights:
Competitively selected into the Buccino Leadership Institute
Historian for Seton Hall University Dance Team
Member of the Buccino Leadership Institute's Strategic Communications Initiative
Member of Lambda Pi Eta: Communication Studies Honor Society
Member of Alpha Omicron Pi Fraternity
Director of Continuous Recruitment for Alpha Omicron Pi