Mason Walczak
Nursing major
Hamilton, New Jersey
"A person's character is defined on how they react in different situations"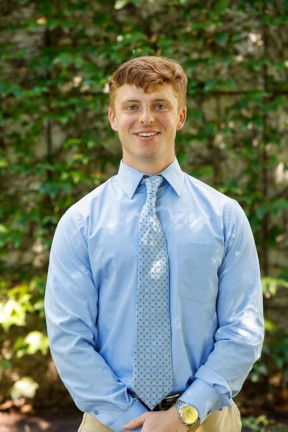 Mason Walczak is from Hamilton, New Jersey, and made his way up to Seton Hall to attend the renowned College of Nursing. Mason backs his work and drive with passion as he continues his nursing education. Mason was also competitively selected to join the Buccino Leadership Institute as part of the Nursing ort. Mason will continue to further his education and leadership attributes.
In high school, Mason's leadership emerged as he was the captain for both his travel and high school soccer teams and high school baseball team. This led to other leadership groups such as the peer leadership program. The peer leadership program is a selective group of upper-class students that helps the transition of freshman to high school. Most of Mason's High School career was highly involved in various clubs and sports building leadership, communication, and time-management skills. Mason started to learn how to be an adaptive leader and using different leadership tactics with separate groups of people.
Mason's time at Seton Hall has been the most impressive years of his life. The first year and a half Mason has grown and emerged as a leader on campus taking leadership roles in the organizations he is involved in. Elected to the executive board of his fraternity within his first year and the secretary and the management of recruitment. Secondly, he was selected to join Buccino Leadership Institute where he will constantly learn how to become a better leader and surrounding himself with future peer leaders on a weekly basis. Mason is looking forward to continuing his involvement in leadership positions in other organizations and taking the skills and lessons he learned with him along the way.
Mason chose Seton Hall for the opportunities in Nursing and the location in proximity to some great hospitals. Seton Hall nursing provides many opportunities with alumni connections and support toward its students that drew the attention of him and the rest of the College of Nursing. College of nursing provides an extremely high value of education and opportunities.
Mason joined the Buccino Leadership Institute slightly late as a sophomore but will spend the first year catching up taking both the sophomore and the first-year classes simultaneously. "I am so thankful this opportunity arose and was able to get into the institute. There are countless opportunities available to me through this program. I am looking forward to using the resources and learning as much as I can." With the help of the Institute, Mason will continuously improve his leadership skills, shaping him to be a better overall person and an asset in the workplace.
Seton Hall Career Highlights:
Competitively selected for the Buccino Leadership Institute
Student Nurses Association
Brother Of Phi Delta Theta's International Fraternity