"Fight for the things that you care about, but do it in a way that will lead others to join you."- Ruth Bader Ginsburg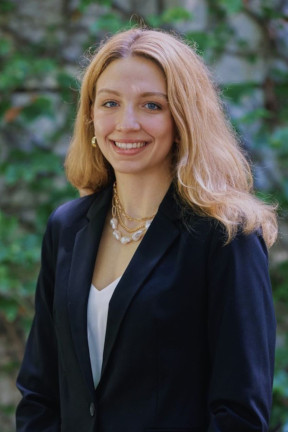 Madeline had no qualms "diving" into campus life at Seton Hall despite hailing from Wheaton, Illinois. A lifelong competitive swimmer, Madeline wasn't familiar with Seton Hall until a friend suggested she speak to the Women's Swimming and Diving coach. After taking a visit her senior year, she "immediately fell in love" with the friendly campus life and close professor-student relationships within the School of Diplomacy and International Relations.
Yet it was not until receiving an invitation to the Buccino Leadership Institute that Madeline decided to fully commit to attending Seton Hall. The Institute was the "perfect opportunity", she says, to further develop leadership skills she had acquired in high school as her swim team's captain, President of the National Honors Society, and Vice President of Student Council. Furthermore, her interactions with leadership faculty gave her the sense that she could soon be a part of something bigger than herself. Madeline admits she did not realize, however, that her competitively selected admission into the Buccino Leadership Institute would open a world of opportunity not only in leadership development, but in mentorship and networking opportunities.
"I have learned an incredible amount from not only listening to classes on leadership fundamentals, but also from merely observing the behavior and habits of many of the highly successful people we have had the chance to speak to. I have been so fortunate to be able to sit in on so many guest lectures that have forced me to truly critically think about myself".
After a "lowkey" first year due to the COVID-19 pandemic, Madeline is looking forward to further involving herself in the Institute and the School of Diplomacy, in addition to competing for the Seton Hall Swimming and Diving Team and writing for the Diplomatic Envoy.
A Diplomacy and International Relations major and Economics and Arabic minor, Madeline has a particular interest in conflict, terrorism, and law, especially in the Middle East. Upon graduating from Seton Hall, she hopes to continue her education and work in either international law or US foreign policy. Her dreams, she says "just seem so much more possible now with the support of my teammates, classmates, professors, and Buccino family".
Seton Hall Career Highlights:
Competitively Selected into the Buccino Leadership Program
Member of the Seton Hall Swimming and Diving Team
Writer for The Diplomatic Envoy