Gabriella Conceicao
Accounting major
Rockaway, New Jersey
"Being in the Buccino Leadership Institute inspires me to be a better version of myself every day. I love being surrounded by people with such strong passions and different goals, but who all hope to become better servant leaders."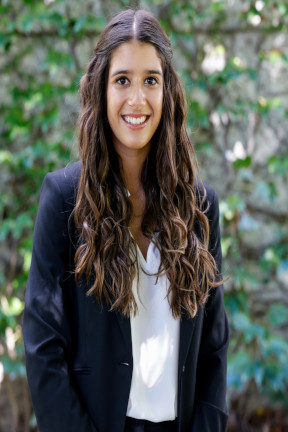 Gabriella Conceicao is a passionate and dedicated business student ready to pursue her future career as an accountant. Conceicao is a member of the Class of 2024 at Seton Hall University, seizing every opportunity coming her way. At Seton Hall, she studies accounting and is part of the Buccino Leadership Institute's business cohort.
During her high school career, Conceicao held many leadership positions, including the captain of the Cross Country and Track team, a member of the National Honors Society, portrait editor of the school yearbook, and manager at her part-time job. Within Cross Country and Track, she achieved All-Conference four times and All-State once. She acquired a lot of leadership experience from these activities and was determined to gain even more throughout college.
At Seton Hall, she continues to challenge herself and is trying to get involved on campus as much as possible while balancing working about twenty-five hours a week as a hostess at The Capital Grille. Conceicao said, "I rarely have free time because my schedule is full of either school activities or at work, but I believe that all of that hard work will set me up for great success in the future".
Conceicao started her college career as a nursing major, but after suffering a hip injury in high school, she decided nursing would be too physically demanding. As a nursing major, she was involved in Student Nurses Association and was going to be the lower classmen nursing representative in the Buccino Leadership Institute her sophomore year. Although this has caused a setback, she is very happy about finding her true passion in business and is thrilled to see where it can take her.
Conceicao is still learning all about the business world and where her passions lie within it. She is currently in Generation One and has recently joined Stillman Women Leadership and hopes to join the accounting club and Beta Alpha Psi in the future. She is also looking into declaring a second major in Information Technology Management. "I feel like I am behind on clubs because I switched my major, but I have a lot of future plans to get involved and really hope to gear my accounting career towards technology", Conceicao said.
Conceicao chose to attend Seton Hall because of its award-winning Business Leadership Program. Conceicao knows that the leadership program will provide her with numerous opportunities that no other college program can. The leadership program gives her the opportunity to meet new people, make connections, and network. She hopes to get out of her comfort zone and gain real-world experience by interacting with and learning from company executives. Through the workshops offered by the program, she is continuously working on shaping her leadership abilities. She is looking forward to what the leadership program and her other clubs have planned for her.
Seton Hall Career Highlights:
Competitively selected into the Buccino Leadership Institute
Stillman Women Leadership Member
Member of Generation One