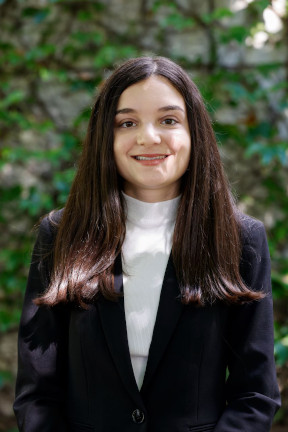 Francesca is a political science major in Seton Hall's 3+3 BA/JD Program. She grew up in Manalapan, New Jersey, and came to Seton Hall to pursue her passion for law. After finishing her undergraduate career at Seton Hall, she hopes to attend law school to pursue her aspiration of becoming an attorney.
The Buccino Leadership Institute was a significant factor as to why Francesca chose to attend Seton Hall. Throughout her high school career, Francesca held many leadership positions. She was Student Council Secretary and Commissioner, as well as the Fundraising Coordinator for her school's History Honor Society.
Francesca was also an active member of the Principal's Leadership Committee and Peer Leaders. Her experience in these positions piqued her interest in the Institute as she wanted to continue developing as a leader. Francesca decided to join the leadership program for many reasons. One of those reasons was that she hoped the program would help her develop and improve the leadership skills necessary for her to become a successful attorney and leader in the law field. Francesca also believes that the leadership program will help her discover the type of leader she aspires to be and her leadership style, while providing her with strategies to further perfect both. When researching the Institute, she found that the leadership program had many resources that would help her work on specific areas of her leadership skills and provide strategies to become a better leader.
Additionally, she aims to gain real-world experience of what it is like working as a leader within a team setting. From having the opportunity to be an Inter-Disciplinary Team Leader during her freshman year within the Buccino Leadership Institute, Francesca was able to experience firsthand the challenges that leaders face and how to overcome them. She was able to learn valuable skills that one needs as a leader and apply them to her everyday life.
Besides being a part of the leadership program, Francesca is heavily involved on campus as well. She works as a Peer Advisor on campus, where she guides 28 first-year students during their transition from high school to college life. Francesca is also a member of different organizations such as the Seton Hall Pre-Law Association and the sorority Alpha Omicron Pi. Francesca participates in these activities to challenge herself and help enhance her leadership skills. Through her participation in these different activities, she has learned valuable skills such as conflict and time management, which the Buccino Leadership Institute has helped her further develop during her time at Seton Hall.
Seton Hall Career Highlights:
Competitively selected into the Buccino Leadership Institute cohort for College of Arts & Sciences
Competitively selected into Seton Hall University's Honors Program
Peer Advisor
Underclassmen Representative for the College of Arts & Sciences Cohort
Freshman Inter-Disciplinary Team Leader
Seton Hall Pre-Law Student Association Member
Alpha Omicron Pi Member