"We can each change the world, with genuine acts of kindness." - Mongai Fankam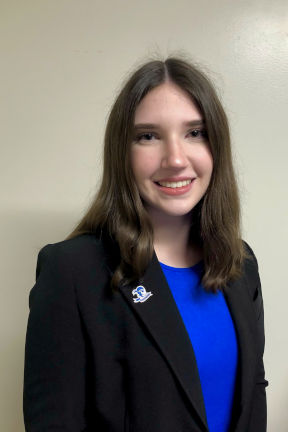 Amy Katheen Szeles is an Elementary Special Education and Liberal Arts majors with a fine arts minor in the class of 2024, as well as a student in the College of Education and Human Services Buccino Center for Leadership Development. She chose this major because she has a passion of wanting to help young people as they grow and find themselves. Simultaneously, Amy is excited to grow her leadership qualities to become the best leader for those who need her guidance in her field.
At home in Hightstown, New Jersey, Amy has a loving mom and dad, as well as many pets. Living at Seton Hall with her will be her older sister, identical twin sister, and her service dog named Toby. She is a successful martial artist, receiving her second-degree probationary black belt in taekwondo, as well as many instructor ranks and she continues to teach today. Her own experiences with taekwondo have fueled her love for teaching the sport she adores to kids of all ages and motivating them that they are strong and capable. Amy is also extremely dedicated to the arts, finding joy in painting, drawing, ceramics, woodshop, and other art mediums. She has won several awards for her realistic pieces and will continue to create as she enters the exciting and diverse environment of Seton Hall.
During her next three years at Seton Hall University, Amy is thrilled to get involved in all the school has to offer. She is a member of RISE and the Director of Chapter Culture in her sorority Alpha Omicron Pi, a position in which she is an advocate for others and herself. She also has a goal of participation in as many service trips as possible, inspired by her mission trop to Wayne County, West Virginia, where she built a house for an underprivileged man in the area. In addition, Amy would enjoy creating more art, attending basketball games, and continuing leadership through the Buccino Institute and her sorority to help increase the positive footprints she leaves on the world.
Seton Hall Career Highlights:
Competitively selected into the Buccino Leadership Institute
Member of Alpha Omicron Pi Fraternity
Director of Chapter Culture for Alpha Omicron Pi
Member of RISE
Taekwondo teacher