Joseph A. Unanue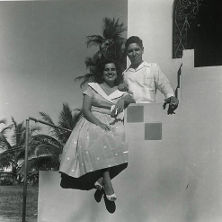 "It's easy to make excuses," Unanue said. "Work hard and get an education. Don't give up."
Joseph Unanue may be widely remembered as the former Chairman and CEO of Goya Foods, Inc. but to his family and many of his employees he was simply "Papa Joe." Mr. Unanue was a brilliant leader and administrator; loved and respected by all for his leadership, tenacity and dedication to not only his vision of expanding Goya but to keeping with the traditions of his family and culture.
Joseph A. Unanue dedicated his life to helping others. He was twice named "Man of the Year" by the National Conference of Christians & Jews and was awarded a Leadership Award by the National Minority Suppliers Association. He was even presented the Key to the City of Boston. In 1991, Hispanic Magazine honored Mr. Unanue with the National Hispanic Achievement Award. He received an honorary PhD from Seton Hall University and served as a member of the Board of Trustees of the Catholic University of America, his alma mater. His mission was to help Hispanic people and to promote Hispanic Culture. "We have always dealt with the Hispanic market in this country. I wanted to help people from Spanish countries get ahead in this country," he once said.
This initiative and generous spirit is something we seek to embody as a salute to our namesake. The institute reflects the Unanue's spirit for promoting the rich history of Latinos in the United States — to which Unanue himself has contributed a few chapters. Following his service in the military, which earned him a bronze star, he joined the family firm. In 1972, he became acting president until the death of his father in 1976 upon which he became Chairman, President and CEO. Under his leadership, the company grew from a small regional food company with approximately $8 million in total sales to a global brand with over $800 million in sales and 15 manufacturing and distribution facilities worldwide. Goya Foods, Inc. is now the largest Hispanic-owned food company in the country with an international operation stretching from Secaucus, NJ, Bayamón, Puerto Rico, Seville, Spain, to Santo Domingo, Dominican Republic with ten U.S. facilities alone in: Illinois, Florida, New Jersey, New York, Massachusetts, Texas and California.
Joseph A. Unanue and his wife Carmen made uplifting the Latino community their life's work.
Carmen Ana Casal de Unanue
Faithful, lifelong service to her family, her church & her community are hallmarks of the life of Carmen Ana Casal de Unanue. Her deep commitment to others distinguishes her as a woman of great compassion and vision.
Born in Puerto Rico, Mrs. Unanue spent her elementary school years at the Academia del Perpetuo Socorro in San Juan. She attended high school at the Academy of Mount Saint Vincent in Tuxedo Park, New York. Upon completion of high school, she returned to Puerto Rico to attend the University of Puerto Rico. After matriculating with her degree, she married Joseph A. Unanue.
For many years, Mrs. Unanue has been involved in numerous religious and community activities. She has taught Spanish and Religious Education at both St. Joseph School in Bogota, New Jersey and St. Therese in Cresskill, New Jersey. She is well known throughout the Archdiocese of Newark and the local Latino Community for her many volunteer efforts.
Her commitment to the community is evident through her involvement in various charitable organizations. She has served both as an executive board member and as the former president of El Museo del Barrio, New York City's only Latino museum dedicated to Puerto Rican, Caribbean and Latin American art. In 2006, she was named to the board of directors of The Resource Foundation, an organization committed to increasing the self-reliance and living standards of the disadvantaged throughout Latin America. Mrs. Unanue spent many years on the Board of Trustees of public television, WNET, channel 13 in New York City. As well as a board member of the Don Bosco Executive Development Council of Patterson, New Jersey. Previously, she served on the Overseers Seminary Committee at Immaculate Conception Seminary in South Orange, New Jersey.
With her family, she frequently travels to Honduras to work with residents in remote villages. Her desire is to share her time, talent and treasure with others is evident in her dedication to this undertaking. Through these trips she has partnered with the Agua para del Pueblo project, providing vital infrastructure to bring potable water to villagers without means to do so themselves. In addition, she has been instrumental in the building of schools in the same affected areas. Mrs. Unanue sees the call to stewardship as a way of life.
In 2005, Mrs. Unanue was honored by the American Bible Society for her contribution and leadership to the Hispanic community. At the request of Pope John Paul II, she served on a ten woman steering committee that was responsible for organizing the first Catholic Pro Familia in Puerto Rico in September 1993. In this capacity, she was able to work with Papal Emissary and close family friend, noted author, Monsignor Lorenzo Albacete. Mrs. Unanue was even honored by President Ronald Reagan for her community service. In 1984, Seton Hall University awarded Mrs. Unanue an honorary Doctorate of Humanitarian Service.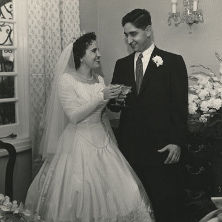 Carmen Ana remains an active and committed philanthropist. Both personally and through the C&J Unanue foundation, she has supported a number of organizations including Ballet Hispanico, Museo Del Barrio and the Archdiocese of Newark. The Foundation is funding the Joseph A. Unanue Institute and the Latin American/Latino Studies Program at Seton Hall University.
Mrs. Carmen Ana Unanue resides in Northern New Jersey and is the proud mother of six children & eighteen grandchildren.