Office of International Programs Announces Five 2023 Mendoza Global Student Ambassadors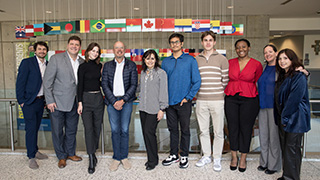 Left to right: Doug Cantelmo, Jon Paparsenos, Tijana Minic, Juan Mendoza, Katia Passerini, Prasidh Pradeep, Axel Berglund, Toni-Ann Grant, Mary Kate Naatus, Ludovica Busseto
The Office of International Programs recently announced a new class of Mendoza Global Ambassadors who will represent Seton Hall in their home countries in an effort aimed at increasing the University's global footprint.
With the help of the Mendoza Scholarship, five international Seton Hall students will connect with high school students in their local communities to introduce them to the many academic opportunities available at Seton Hall. These student ambassadors will organize activities in their home country during school breaks to demonstrate how Seton Hall is a great fit for international students.
Juan Mendoza, founder and contributor of the Mendoza Scholarship, is a proud father of four daughters that attended Big East schools (Villanova, Georgetown and Seton Hall). "We are from Venezuela, and I thought that it would be phenomenal for other people like ourselves to find out that the [Mendoza Global Ambassador Program] is a fantastic option for their kids to get educated and to grow. That's how I became involved and that is how the Mendoza Fund was created. Recipients have taken advantage of that opportunity, reaching out, to help the school achieve its full potential."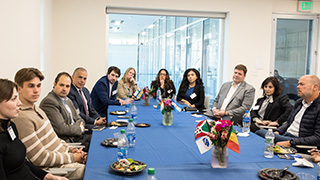 Members of Seton Hall leadership and Juan Mendoza honor the five selected students for this year's Mendoza Global Student Ambassador program.
The five students that were selected to become this year's Mendoza's Ambassadors are Axel Berglund (Finland), Davide Del Savio (Italy), Prasidh Pradeep (India), Tijana Minic (Serbia) and Toni-Ann Grant (Jamaica) who were honored and celebrated with members of Seton Hall leadership and Juan Mendoza on April 3 in the new Office of International Programs.
Tijana Minic will be representing Seton Hall in Serbia, who can tell her experience as a third year Psychology student. "I owe a lot to my parents for making it possible for me to come to the USA, so I wanted to ease the financial burden on them while doing something I already actively do, which is promoting my school and the amazing education I get here." While in Serbia, Minic plans to visit her high school where she received so much support when choosing to study in the United States. She also plans to use social media as a platform to bring awareness about international study at the university. "Talking about my life at Seton Hall has become such an easy conversation topic because people are naturally interested in something that's so far away from them, and to some almost unimaginable. I am always happy to share my knowledge and experiences I have to offer."
"The Mendoza Scholarship presents an opportunity for me to share my wonderful experiences at Seton Hall with my community. From the moment I arrived on campus, I felt part of a bigger community," said Prasidh Pradeep, a first year Biology Major. "I have friends from all over the world and have been exposed to a variety of new cultures. I believe Seton Hall has a lot to offer to the students in my home country for their academic and personal advancement." As the former Head Boy of his high school in India, Pradeep plans to organize information sessions about Seton Hall's academic programs and career pathways for the entire student body.
Axel Berglund, a first year Business Administration student, will be a Global Ambassador in Finland, "I wanted to apply for the Mendoza Scholarship since I saw it as a great opportunity to share my experience and all the possibilities provided by Seton Hall. The scholarship means a lot to me since I see it as a way of trust. It allows me to focus fully on completing my studies at the highest possible level, while sharing the wonderful opportunities Seton Hall provides for students."
As a first year Biochemistry major, Toni-Ann Grant will connect with her local community in Jamaica. "I am someone who in general has immense school spirit, and the scholarship provides me the stage to do so. Seton Hall has become a home away from home that I am proud of, and excited to share that very pride with others from my home country. I know there are many individuals at home who would love to experience a community such as this, and I would like to expose them to it and provide them with firsthand accounts of my experiences," said Grant. In Jamaica, Grant plans on collaborating with college counseling companies where she can spread the word about Seton Hall with other Jamaican students.
Lastly, Davide Del Savio, who is an Exercise Science major, will be representing Seton Hall in Italy. "The Mendoza scholarship and the financial support that comes with it, for me and my family, is a real blessing," said Del Savio. Davide plans on using social media and providing print materials such as brochures to local high school students to bring awareness about Seton Hall University.
Seton Hall is committed to serving, and is enriched by local, national and global communities. As part of the University's strategic plan, Harvest Our Treasures, Seton Hall is committed to providing international and study abroad opportunities, and promoting its global partners.
"Our international students at Seton Hall enrich our campus and learning environment in so many ways, and we value the diverse cultural perspectives they bring to the community," said Mary Kate Naatus, Assistant Provost and Dean of Continuing Education and Professional Studies. "Our Mendoza Global Ambassadors are uniquely positioned to help build awareness of Seton Hall's excellent academic programs to a global audience."
The five countries represented by these international students is a small percentage of the University's mark on the world. The Office of International Programs hosts study abroad programs every semester, including summer and school breaks. Students have studied far and wide in countries such as Greece, Italy, Indonesia, Ethiopia, Japan, and France, just to name a few.
To learn more about the Office of International Programs and its student offerings, please click here.
Categories: Office of International Programs