SHMS Team Receives National Recognition for Avatar-Based Learning Simulation Project
Thursday, April 13th, 2023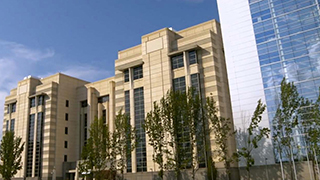 Virtual reality (VR) is bringing complex healthcare issues to life for students at Seton Hall University's School of Health and Medical Sciences (SHMS) — thanks to a grant-funded learning simulation project developed by faculty at the School's Center for Interprofessional Education in Health Sciences (CIEHS).
Last fall, the Association of Schools Advancing Health Professions (ASAHP) awarded a 2022 Interprofessional Collaboration Research Grant to a stand-out team of SHMS' Interprofessional Health Sciences campus faculty for their project, "Interprofessional Avatar Based Simulations: A Low Stakes Tool to Promote Professional Readiness to Support and Manage Patient's Unexpected Life Altering Medical Diagnosis via Telehealth." The group includes CIEHS Director and Professor Genevieve Pinto Zipp, P.T., Ed.D., FNAP and colleagues Lauren Snowdon, P.T., D.P.T., M.S.; Lorene Cobb, PT, D.P.T., M.S., PCS; Leslie A. Rippon, Ph.D., ATC.; Marcia C. Downer, PT, D.P.T, NCS; Alicia M MacGregor, M.S., OTR; Natalie Neubauer, Ed.D., CCC-SLP; and Kimberly Ann Miller, PA-C. The ASAHP grant allows the SHMS team to continue to infuse their innovative research into their IPE simulation learning curriculum in 2023 and beyond.
Simulation learning is a cornerstone of SHMS' Interprofessional Education (IPE) curriculum, noted Zipp. "In healthcare education programs, simulation experiences are used to promote students' understanding of complex ideas through active learning in a low-stakes environment," she said. Simulated experiences bridge the gap between coursework and clinical experiences and bring interprofessional students together in real-to-life settings. "These activities mimic real-world healthcare situations and provide enhanced learning opportunities for our future practitioners," she observed.
Developing a VR simulation learning experience to complement the IPE curriculum was a natural next step for the SHMS faculty group. "In addition to evaluating our students' knowledge of emerging healthcare practices using avatars in the virtual world, we also wanted to explore if Interprofessional Active Learning Avatar Based Simulation (IALABS) was feasible as a long-term learning experience, and to test our faculty members' readiness to employ it," Zipp said.
The research team developed the initial IPE avatar simulation and piloted the VR platform and learning materials on three students and four faculty during the spring 2022. During the experience, the volunteers engaged in a live interprofessional team meeting with an avatar based on a real-to-life healthcare scenario (in this case, a transgender college athlete who experienced a concussion injury that had a negative effect on their cognitive, physical, and social wellbeing). Programmed with a blend of artificial and human intelligence, the patient avatar interacted with participating students who developed a plan of care using a simulated telehealth practice model. The telehealth model enables health care providers to connect with one another and patients online from anywhere to provide services and care needed. The innovative pilot received accolades from the volunteers.
"Students noted that this was a positive learning experience that promoted knowledge and perceptions of telehealth practices...and provided a valuable opportunity for interprofessional collaboration to improve person-centered care by addressing the patient's psychosocial wellbeing," the authors noted in their research. "We also learned that the customization of avatars' virtual environments could be carried out effectively."
In addition to securing the ASAHP grant last fall to continue their research on avatar-based simulation learning, the team presented their pilot data at ASAHP's 2022 Annual Conference, "Leading the Charge – Advancing Innovation in Higher Education and the Health Professions" (Oct 19–21, 2022, Long Beach, CA).
Armed with their positive pilot data, the research team infused the IALABS program into an existing IPE Online Module learning experience that took place during the Fall 2022 semester, providing a more robust active learning environment for 30 interprofessional teams of 8–10 students. Plans are also underway to pilot test the second IALABS experience in Summer 2023, with large scale adoption into the IPE curriculum considered for Spring 2024.
"We're proud of our trailblazing SHMS faculty who continue to advance IPE using simulation," said Brian B. Shulman, Ph.D., dean of the School of Health and Medical Sciences, noting, "In January 2023, SHMS and The College of Nursing received $1.14 million in federal funding to further enhance the Clinical Education and Simulation Center — a testament to our innovative health science curricula and our dedicated, top-notch faculty research team."
Categories: Health and Medicine, Research, Science and Technology