School of Health and Medical Sciences Grows Partnership with JAG-ONE Physical Therapy
Wednesday, April 28th, 2021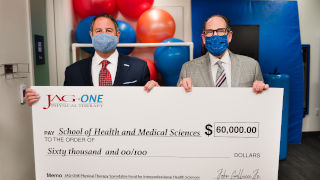 The School of Health and Medical Sciences (SHMS) announces an expansion of its partnership with JAG-ONE Physical Therapy, the tri-state area's leading provider of outpatient orthopedic physical and occupational therapy services. For over a decade, the school and therapy provider have shared an agreement to offer clinical placements to SHMS' graduate students.
"The opportunity to further develop our relationship with JAG-ONE Physical Therapy is an extremely rewarding one as it provides deserving students with access to funds toward their education. For 15 years, JAG-ONE has acted as a clinical partner with the School of Health and Medical Sciences, providing hands-on clinical experiences for our students and future healthcare practitioners. I look forward to our continued partnership with JAG-ONE in providing exemplary clinical education in Physical Therapy (PT), Occupational Therapy (OT) and Athletic Training (AT)," says Dr. Brian B. Shulman, Dean.
The collaborators recently added to this synergistic relationship through the development of the JAG-ONE Physical Therapy Fund for Interprofessional Health Sciences. The fund will provide support to eligible students entering their final year of their respective graduate program with preference to those in the Doctor of Physical Therapy (D.P.T.), Master of Science in Occupational Therapy (M.S.O.T.), and Master of Science in Athletic Training (M.S.A.T.) programs. This scholarship also includes access to participate in interprofessional clinical experiences, research, shadowing opportunities, and other enriching experiences. Additionally, the donor will deliver an annual presentation to the graduating students of the PT, OT, AT programs on topics such as: what to expect upon graduation, trends in the profession, how to have a successful career in healthcare, etc.
"We are honored to be expanding upon our partnership with Seton Hall to encompass both athletics and academics," says John Gallucci, Jr., JAG-ONE Physical Therapy CEO. "This fund will prove to be extremely beneficial for the students of the SHMS programs. Having gone through AT and PT school myself, I know the financial burden it takes, and I am so proud to be able to aid these students on the path to such an enriching set of careers."
Categories: Health and Medicine