School of Health and Medical Sciences Dean Brian B. Shulman to Retire after 25 Years of Service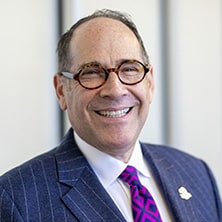 Brian B. Shulman, Ph.D., CCC-SLP, ASHA Fellow, FASAHP, FNAP
Brian B. Shulman, Ph.D., CCC-SLP, ASHA Fellow, FASAHP, FNAP, who has elevated the School of Health and Medical Sciences as dean since 2007, is retiring from the University.
A member of our community for 25 years, Dean Shulman initiated the school's interprofessional education and collaborative practice strategy. He served as the academic lead for Seton Hall's efforts to establish the Interprofessional Health Sciences campus. More recently, he facilitated a deliberative strategic planning process for the school in line with Harvest Our Treasures' goals.
His leadership has resulted in growing national and international recognition of the school and, in particular, its Center for Interprofessional Education in the Health Sciences.
Among his other accomplishments:
He collaborated with more than 30 partners to provide opportunities for students to learn how their health profession is practiced in a foreign country, including a service-learning component.
He developed an articulation agreement with Caldwell University that guarantees top students admission into some of SHMS' entry-level graduate programs.
He initiated the speech-language pathology dual-degree program with the College of Education and Human Services' program in special education.
He established the Bachelor of Science in Interprofessional Health Sciences degree, which has an enrollment of nearly 100 students currently in its first year of operation.
Dean Shulman's last day at the University will be May 19, 2023. The University expresses its appreciation for his extraordinary service to Seton Hall over the last quarter century, and will move swiftly to appoint an interim dean; nominations and self-nominations for the position are due to [email protected] by May 16.
Categories: Health and Medicine