Catherine Lass '13 Heads to Hungary with Team USA
Thursday, July 22nd, 2021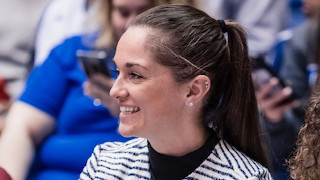 Catherine Lass, Master of Science in Athletic Training alumna and former senior athletic trainer for the Seton Hall Pirates, has been selected as athletic trainer for the 2021 USA Basketball Women's U19 World Cup Team. Lass will travel with a team of 14 athletes and top-notch coaches to defend Team USA's status as reigning champions at the 2021 FIBA U19 World Cup in Hungary this August.
As the recognized governing body for basketball in the United States, USA Basketball is responsible for the selection, training, and fielding of USA national teams to compete in FIBA-sponsored international competitions. Beginning in 1985, the FIBA U19 World Cup was held every four years, but in 2005 the tournament began being conducted every other year. Since its inception, the USA Women's Basketball teams have won eight gold medals, one silver, and one bronze at the FIBA World Cup, winning seven of the past eight tournaments. This year, the games will feature U19 teams from 16 qualified nations including, Argentina, Brazil, Canada, China, Czech Republic, Egypt, France, Hungary, Italy, Japan, Mali, Russia, South Korea, Spain, and the USA.
The opportunity to join USA Basketball for the 2021 games presented itself after Lass provided elite level training and conditioning to a team of professional athletes during two week-long intensive camps. As Lass recalls, USA Basketball's Women's National Team Director Carol Callan and the pro athletes themselves recognized her skill and extended an offer to her to travel with the team as the athletic trainer. About this spectacular opportunity, Lass says she is extremely grateful for the chance to work with the "best of the best of USA Basketball" and is proud to be representing the country.
During her time in the Master of Science in Athletic Training (M.S.A.T.) degree program in the School of Health and Medical Sciences at Seton Hall, Lass trained at various clinical sites including Roxbury High School and Princeton University. She credits the clinical rotations she completed with incredible trainers and coaches with making her the best trainer she could be. "The classroom is only going to take you so far," says Lass. "The more time you put your hands on people and the more time you find yourself in a clinic, that's how you're going to be great."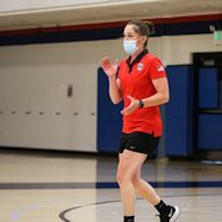 Prior to joining the athletic medicine staff at Duke University in 2019, Lass spent eight years at Seton Hall University as an assistant athletic trainer and senior athletic trainer supporting baseball, volleyball, cross-country and eventually women's basketball, women's golf and women's tennis, as well as helping out with men's basketball and men's golf. She acknowledges that the varied experience provided by working in the Seton Hall training room allowed her to see different perspectives on supporting athletes from multiple sports and to diversify her skills.
Lass also worked as a guest lecturer and preceptor for the Seton Hall M.S.A.T. program and has plans to return to the classroom as either an adjunct or guest speaker because she believes, "Teaching makes you great at what you do as a clinician." She has aspirations of pursuing a PhD in the future, perhaps at Duke University, and possibly taking on an administrative role down the line.
While she has traveled for training extensively around the U.S., she is looking forward to traveling outside the country for the first time and immersing herself in different cultures, enjoying the local cuisines and people. She is thrilled to be working with a coaching staff that includes Cori Close (UCLA), Aaron Johnston (South Dakota State University), Joni Taylor (University of Georgia), and expects to learn a great deal from this experience.
To up and coming athletic trainers, Lass stresses the importance of networking, working hard and taking advantage of the opportunities presented to you. "When I was at Seton Hall, I was there even when I wasn't supposed to be." In under ten years since completing her graduate degree at Seton Hall, Lass has fashioned an amazing career. "Be hungry, be humble and know that your clinical experience is going to set you up for what your first job is going to be," she cautions.
Capitalizing on her experience and dedication, Lass is sure to be an integral part of Team USA's quest to bring home gold from the 2021 FIBA U19 World Cup.
Categories: Alumni, Athletics, Nation and World