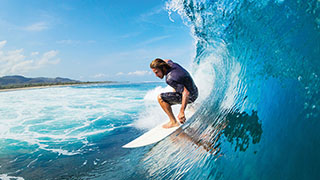 Ride the wave to educational success by enrolling in an online course - or two - this summer!
"At Seton Hall University, we have such a diversity of summer course offerings. Perhaps you are a pre-college student hoping to get a jumpstart on your college career. Maybe you are a current or visiting undergraduate or graduate student wanting to fit in those classes taught by top faculty. Our summer sessions enable you to move ahead along your graduation path and fulfill your occupational goals," said Karen Passaro, J.D., Dean of the Division of Continuing Education and Professional Studies at Seton Hall.
"Our classes are all offered online this year, which is ideal for those wanting flexibility in their summer schedule. And we have offerings for adult professional learners wanting to advance their career and leadership skills," explained Dean Passaro. New for 2020: Current Seton Hall undergraduate students who take two courses during the summer will receive a $1,500 grant to help make summer study more affordable. Students are not required to have 30 credits already completed. The discount does not apply to visiting students.
Undergraduates may enroll in a wide variety of campus offerings, from Great American Speeches of Our Time, to Introduction to the Catholic Vision, from Persuasive Speaking to Social Psychology. For those into sports, there's also Introduction to Sports Media, taught by Baseball America's BJ Schecter. Students also can use this time to explore such fields as business writing, African-American studies, personal money management, and American art.
Pre-college offerings – for rising high school juniors and seniors – engage students in rigorous university-level coursework while earning college credit at a greatly discounted rate of $500 per credit. Examples of subjects available include American history, history of Asian religion, social work, mathematics, and theatre as cultural dialogue.
Graduate students can also gain an edge with such courses as Healthcare Data Analytics, Essentials of Federal Taxation, Technology for Administrators and International Relations of African States.
No matter what level you are, opportunities are waiting for you. Dive in and learn!
For more details and to register for Seton Hall University Summer Sessions, visit www.shu.edu/summer.
Categories: Education