Summer Teen Program Honors Lt. Governor Oliver, Closes with Coverage from ABC, CBS News
Saturday, September 9th, 2023
With special guests that included Lauryn Hill, award-winning producer Jerry Wonda and DJ Wallah, the East Orange Summer Work Experience Program (SWEP) closed out this year with a tribute to the Life and Legacy of Lieutenant Governor Sheila Oliver.
The event was covered by CBS News, NBC News and other local media organizations. New Jersey Governor Phil Murphy tweeted his approval, calling it "a beautiful and heartwarming tribute."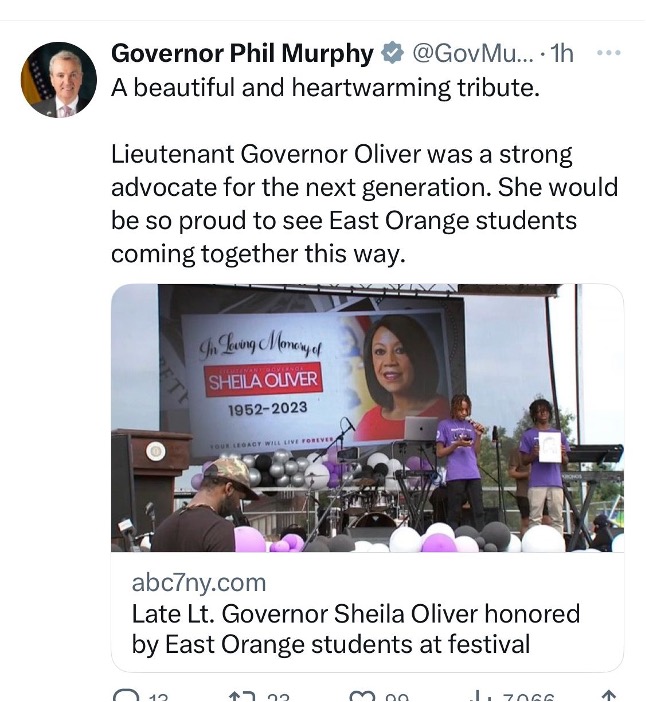 "Lieutenant Governor Sheila Oliver was a champion of youth empowerment and dedicated her career to creating opportunities for young people," said Jamila T. Davis, Community Practitioner in Residence at Seton Hall's Center for Community Research and Engagement. "Along with Angelo Pinto, Esq., I head up Be the Changemakers, and we have brought this programming to the students of East Orange for four years now. Sheila Oliver was a Changemaker with a capital C and this tribute to her served as an inspiration to the participants in the SWEP program – and helped to highlight the importance of these youth voices in shaping the future of East Orange and beyond."
An initiative of the East Orange Mayor's Office of Employment and Training and again hosted by Seton Hall University and Essex County Community College, the program concluded this year with the festival at East Orange City Hall, entitled "Youth Voices Matter: Empowering Youth Through Expression and Engagement."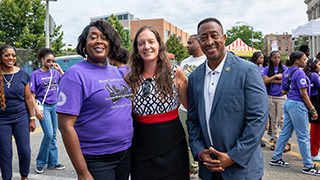 "As I've said elsewhere, we were pleased to be able to again host the Summer Work Experience Program at Seton Hall and help open doors for these students because we know firsthand the power of higher education to change lives and empower," said Dr. Mary Kate Naatus, Assistant Provost and Dean of Continuing Education and Professional Studies at Seton Hall. "Lieutenant Governor Sheila Oliver understood the importance of education and social equity and we were honored to be a part of her tribute and to have played a part in this important initiative to empower area youth."
The festival featured a wide range of activities designed to celebrate the power of youth voices and addressed important societal issues that directly impact teenagers, with a particular focus on the rising toll of the opioid epidemic. The students openly shared their personal experiences and perspectives on these issues, fostering a deeper understanding among attendees and encouraging dialogue and action.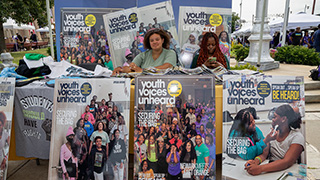 There were stage discussions and performances, teen informational booths, games, prizes, and art displays and a special edition of Pastor John H. McReynolds' Teen Magazine, which the students wrote and produced, was unveiled.
In addition, the students, who were taught marketable skills through the SWEP program (which met for five hours per day, four days per week during the summer at Seton Hall and Essex County Community College) operated various booths to showcase those skills such as the Makeover Booth, Barbering Booth, Culinary Arts Booth, and various Teen Entrepreneur booths.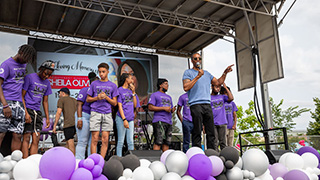 In a spirit of inclusivity and collaboration, students from Newark and Hillside, New Jersey were also invited to join the conversations on stage, creating a platform for cross-community dialogue and understanding.
In addition to Lauryn Hill, Jerry Wonda and DJ Wallah, celebrity entertainers Joshua Omari Marley (son of Lauryn Hill) and Lil Mama performed.
Select Media Coverage
TapInto article, "East Orange Students Honor the Life and Legacy of Lieutenant Governor Sheila Oliver at Annual SWEP Teen Festival"
Categories: Arts and Culture, Nation and World