Honduras Missionary Shares Mission to Overcome Poverty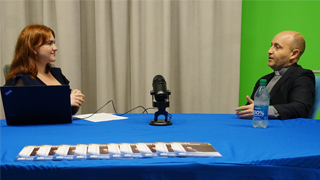 On September 26, Seton Hall welcomed to campus Father Alvaro Ramos, a Spanish Catholic priest working as a missionary in Honduras. Father Alvaro shared his unique story of working as an investment banker and private equity executive before leaving his worldly possessions to serve as a missionary in impoverished Honduras. For his work, he was recognized with the King of Spain Award for Human Rights in 2019.
While on campus, Father Alvaro was interviewed for the Undergraduate Leadership podcast at Buccino Leadership Institute . He celebrated a Mass at the Chapel of the Immaculate Conception and gave a lunch discussion to students and faculty, cohosted by Campus Ministry, Academic Affairs and Continuing Education and Professional Studies.
During his visit, Father Alvaro raised awareness of his mission. Father Alvaro's mission reaches nearly 11,500 children in the most impoverished areas of the country. Honduras is a small country in Central America. Its population is only 3% of that of the United States. However, according to Father Alvaro Ramos, Honduras is a good representation of the current world situation. Like most of the world's population, seventy percent of the people in Honduras live without potable water, paved roads and access to adequate health care and education.
Father Alvaro reminded us of the role of the Catholic Church over the centuries in bringing communities together to help each other and overcome difficulties. According to Father Alvaro, that is the spirit that founded the United States and that they are trying to promote in Honduras.
Father Alvaro's mission is unique in that the entire organization is run by the students. The mission offers scholarships so that children in the poorest areas of the country can study for free from kindergarten until they finish college on one condition. When they reach high school, they have to become active members of the organization. Currently, every morning at 7 a.m., almost 500 high school and college students gather in various mission offices to run an organization that reaches almost 11 regions of the country.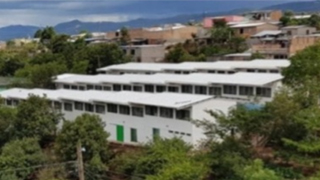 On the transition from his former life as an investment banker and executive, Father Alvaro insists he is still in the investment world. He shared, "There is no better investment than building good people. The expenses for one of our students is $1 to $2 a day, which equals $7,000 to $8,000 over their entire academic life. When they finish college, they can offer their family and society wealth of about $300,000 based on their future earning power. And above that, they are honest people willing to continue to help the poor. No one can put a value to this. It is infinite." His ideas recognize the value of many people who have fought for a better world and share the need to continue that work for generations to come.
At the end of his presentation, Father Alvaro shared before and after photographs of many U.S. and Asian cities over the years. In a relatively short period of time, there has been a remarkable change despite wars, economic crisis, pandemics, etc. He suggested that they are a testimony that when a group of people come together to help each other, the word can change for the better. Father Alvaro and his students are working toward that vision in Honduras. If you want to contribute, please contact Father Alvaro at [email protected].
Categories: Faith and Service