The Center for Catholic Studies Welcomes Fourth Annual Toth Lonergan Visiting Professor Fr. Brian Cronin, C.S.Sp.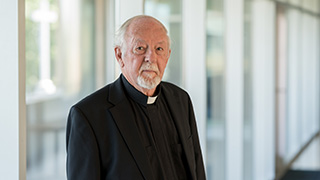 The Center for Catholic Studies is pleased to welcome Fr. Brian Cronin, C.S.Sp. as the fourth Toth Lonergan Visiting Professor of Interdisciplinary Studies. Fr. Cronin will be in residence at Seton Hall for the 2022 Fall Semester, living at Immaculate Conception Seminary, teaching an undergraduate course, delivering a campus-wide lectures and facilitating monthly seminars on mission for Seton Hall faculty in the Praxis Program.
Fr. Brian is a seasoned scholar who brings a wealth of professional and pastoral experience to his role. A native son of Dublin, after his ordination he served as a missionary in Kenya for eight years before spending the next twenty teaching at the Spiritan Missionary Seminary in Tanzania. He later joined the philosophy faculty at Duquesne University where he served until 2020. He holds a Ph.D. in Philosophy from Boston College as well as a License in Sacred Theology (S.T.L.) from the Gregorian University in Rome.
Fr. Brian is the author of numerous scholarly articles as well as four books: Foundations of Philosophy: Lonergan's Cognitional Theory and Epistemology (2005), Value Ethics: A Lonergan Perspective (2006), Phenomenology of Human Understanding (2017), and a forthcoming work, A Worldview of Everything: A Contemporary First Philosophy (Wipf and Stock, 2022).
Gregory Floyd, Director of the Center for Catholic Studies, said of Fr. Brian joining this fall,
We are excited to welcome Fr. Brian to campus this fall. His scholarly work is already known to many faculty on campus and we expect to benefit from his teaching, presentations and daily presence with us. I am especially grateful to our search committee for their work in bringing a scholar of such rich intellectual, international, and pastoral experience to Seton Hall.
The Toth Lonergan Endowed Chair in Interdisciplinary Studies was created by the Center for Catholic Studies to honor two great scholars: Deacon William Toth and Bernard Lonergan, S.J.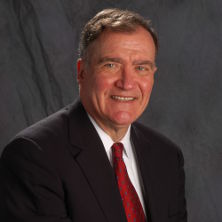 Deacon William Toth
Deacon Toth (1940-2008), taught moral theology at Immaculate Conception Seminary School of Theology and founded the Institute on Work. Deacon Toth's scholarship sought to link Catholic theology with the professions, especially business and law. Bernard Lonergan (1904-1984) was an important twentieth center philosopher and theologian who developed a theory of thinking, which he called a generalized empirical method. It provides a foundation for rigorous and generous interdisciplinary work. Lonergan's cognitional theory supplies a basis for the dialogue between faith and reason, between the various disciplines of the university and between university life and practical life.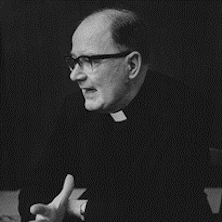 Bernard Lonergan, S.J
The Toth Lonergan Chair brings these two emphases together by inviting a noted scholar to campus each year. The invited scholar facilitates an interdisciplinary dialogue linking the mission and identity of the university to its diverse disciplines and the lives of its students, faculty and staff.
For more information on the Toth/Lonergan Endowment Fund, contact the Center of Catholic Studies at [email protected].
About the Congregation of the Holy Spirit
The Congregation of the Holy Spirit (the Spiritans) were founded in France in 1703. Today they are a missionary order of nearly 3,000 priests, brothers, and Lay Spiritan Associates dedicated to education and various ministries throughout the world.
Categories: Campus Life, Faith and Service