Dr. Gregory Floyd Awarded Lonergan Fellowship at Boston College
Friday, December 2nd, 2022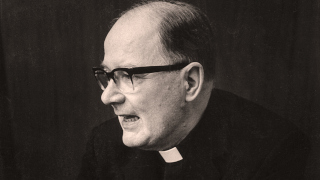 Philosopher and Theologian Bernard Lonergan, S.J.
Gregory Floyd, Ph.D., Director of Seton Hall's Center for Catholic Studies and the Lonergan Institute has been awarded a Lonergan Fellowship from Boston College for the Spring and Summer of 2023.
Lonergan Fellowships are competitive awards given annually to scholars engaging the thought of philosopher and theologian Bernard Lonergan, S.J. The fellowship provides financial and research support for an ongoing project as well as weekly seminars with a cohort of international scholars. Floyd has published a number of scholarly articles on Lonergan's philosophy and will use the fellowship to continue work on a book manuscript discussing Lonergan's critical realist epistemology and its relationship to contemporary philosophical hermeneutics. When asked about the fellowship, Floyd remarked, "I am grateful to Boston College for this opportunity and look forward to working weekly with a team of outstanding scholars and faculty. I am also grateful to Dean Buschman and the Office of the Provost for the research-course release that made this possible."
Floyd will participate remotely this spring while teaching and spend part of the summer in residence at Boston College.
The Lonergan Institute at Seton Hall houses the University's library of Lonergan's collected works and supports initiatives in faculty development, graduate study, faculty and student reading groups as well as other ongoing programs. It also publishes The Lonergan Review, an annual peer-reviewed scholarly journal. Floyd is editor-in-chief of The Lonergan Review which publishes historical, interpretive, dialectical, and critical research at the intersection of the academic and professional disciplines and the thought of Bernard Lonergan, particularly his account of explicit self-knowledge and the interdisciplinary possibilities of his generalized empirical method. In doing so, it seeks to foster authentic human cultures of high ideals, open to religion, the Catholic intellectual tradition, and service of the poor. The first issue appeared in Fall 2009.
Categories: Education, Research