Top Student Entrepreneurs Win $16,000 in seed funding in the 2023 Pirates Pitch Startup Competition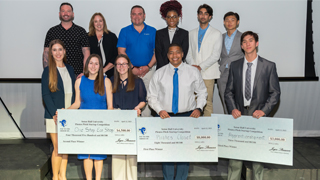 Pirates Pitch awarded $16,000 in seed funding as well as legal services to Seton Hall University's top student entrepreneurs.
Seton Hall University staged in its own version of Shark Tank on Wednesday, April 12 when student entrepreneurs presented their business concepts or existing ventures to a judging panel at the 2023 Pirates Pitch Startup Competition – the first in-person contest in three years. Sponsored by the Stillman School of Business' Center of Innovation and Entrepreneurship (CIE), the contest awarded more than $16,000 in investment seed funding to the winning teams. Entrepreneurship students Peter Colon, Jerry Ford, Gabrielle Roberts, and Kyara Syed served as Master of Ceremonies at the event held in University Center Theater. Proud of the entrepreneur student teams, Stillman School Dean Joyce Strawser stated, "It truly was a pleasure to watch these talented students pitch their startup ideas. The quality of the concepts and the pitches seems to increase each year, with ideas that address a wide spectrum of needs and preferences. I look forward to seeing how these nascent startups and concepts evolve in future years!"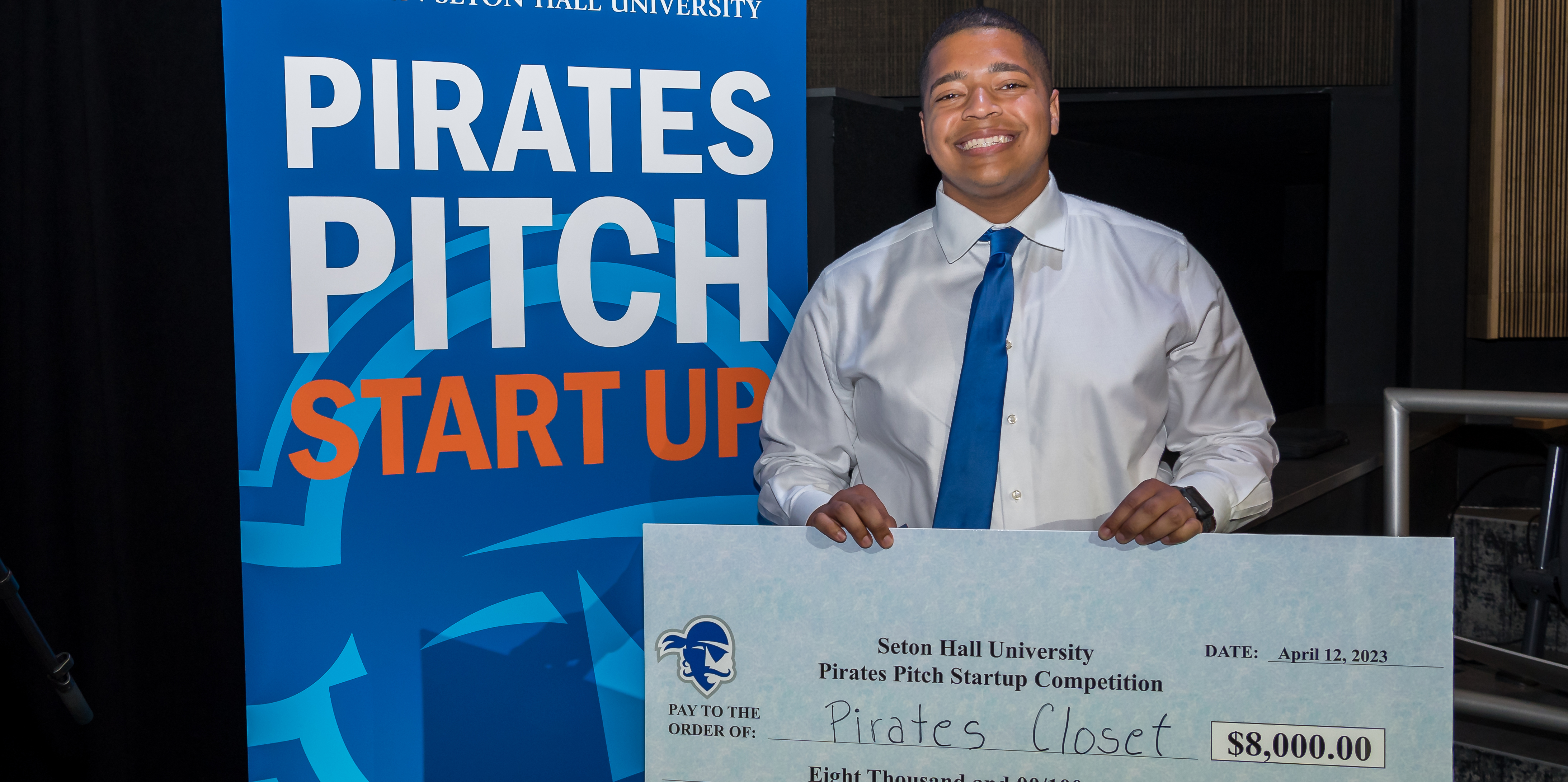 First-place winner Jason Santos took home $8,000 for Pirates Closet.
Stillman junior Jason Santos took home the first-place award of $8,000 for Pirate's Closet, a non-profit business that provides students with professional attire for job interviews and networking events. During his pitch, Santos noted that Pirates Closet gives away suits and other attire for free, unlike the many other college closets in the nation that only rent attire to students. "I am very honored to have placed first in Pirate's Pitch," Santos said. "I look forward to further expanding Pirate's Closet with the prize money. My first priority is to continue to serve the Seton Hall community and further furnish the closet with necessary professional clothing for students of all shapes and sizes."
Brooke and Madison Loza, sophomores studying nursing, were awarded the second-place prize of $4,500 for One-Stop Eco Shop, an online marketplace that sells over 100 sustainable home and body products. Their business aims to reduce waste while being a company where access is not an issue. The students' goal is to provide low-income families with eco-friendly products that can be refilled at their business. In addition to winning the second-place prize, the twins also won the $500 Audience Choice Award. Brooke stated that the prize money will be used to help them open the very first zero-waste store and refillery in Ocean County. The One-Stop Eco Shop store, which will be in Toms River, plans to hold its grand opening on May 20, Brooke added.
Cameron Lloyd, a junior studying finance, took home the third-place prize of $3,000 for APPRENTICESHIPMENT, a business concept to help meet the need for apprentices in the manufacturing industry. Lloyd's online platform will help bridge the gap between high school students looking to secure apprenticeships in high-paying skilled fields and businesses who are in dire need. The other finalists included senior Ayanna Armour who runs online vintage retailer Feelz Nostalgic, senior Jabez Choi and his social media services business Embr AI, and freshman Siddhant Kapoor, who pitched Healio, a mental health app designed to assist high school students.
The student entrepreneurs will also receive pro bono legal services from the event's legal sponsor, Santomassimo Davis LLP/Outside General Counsel, a law firm located in Parsippany. "OGC Solutions® is proud to support the Pirates Pitch competition, which highlights the best and brightest student entrepreneurs. We hope that our guidance helps students prepare for a competitive environment by helping them form strong foundations and allow them to focus on what they do best, which we do every day for our clients," said Christopher M. Santomassimo, OGC Solutions® partner and Outside General Counsel™.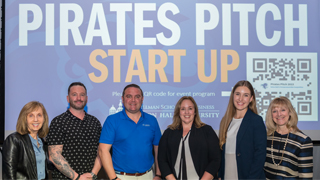 Pirates Pitch Startup Contest Judges with Dean Joyce Strawser and CIE Director Susan Scherreik.
CIE Founding Director Susan Scherreik said that Pirates Pitch is the centerpiece of the university's vibrant ecosystem of resources available to student entrepreneurs. She noted that contest finalists are invited to participate in the Pirates LaunchPad Summer Accelerator. The eight-week program provides student entrepreneurs with $2,000 in seed investment funding.
During the competition, the judges shared how impressed they were with the caliber of the students' ideas and their poise during the question-and-answer sessions. Ahead of the event, the finalists submitted five-page business plans and video presentations to the judges as part of their evaluations.
Serving as judges were: Bryan Jakovcic '09, President and Owner, Fusion Health; Tim Aumueller M.B.A,'08, co-founder & chief revenue officer at Avidon Health; Shannon D.M. Morris ,'92/M.A. '94, managing partner, Tent Collective, and founder, The Whistle Company; and Carina Castagna '21/M.P.A. '22, founder & CEO, Pesto Joe.
"The Pirate's Pitch is just such a terrific initiative," said Morris. "Hearing firsthand from students about business ideas, listening to so many inspired creative concepts and hearing these pitches really gets the judges panel fired up about the entrepreneurial spirit there at Seton Hall University," she continued. "It's always such a privilege to be part of the judges committee and year after year it's just so impressive to see the wide range of concepts from feel-good non- profits to eco-driven retail and AI-powered tech, we saw such diverse and inspired ideas. This year was especially rewarding since we could be back in person for the first time in a few years - making the event even more personal and impactful - in the new University Center which is such an outstanding venue for the Seton Hall University community to share," she added.
Judge Aumueller echoed Morris' comments. "As a judge in the Pirates Pitch 2023 Startup Competition, I am blown away by the level of talent and ambition on display," he said. "These young entrepreneurs are not content to simply talk about problems - they're taking action and creating solutions. Seton Hall's commitment to supporting and challenging these students has clearly paid off, and I can't wait to see where their businesses go from here."
Looking ahead, Scherreik invited all Seton Hall University students who have an idea for an innovative business to contact CIE for coaching and mentoring that can help them to develop a business model and even launch their venture. "Entrepreneurship is a contact sport," she said. "You've got to be in it to win it!"
Categories: Business