Seton Hall to Celebrate 6th Annual Giving Day: Hall for one, one for Hall
Tuesday, March 28th, 2023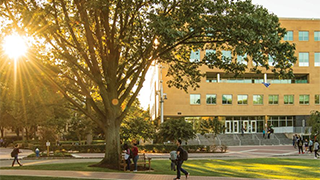 On April 19-20, Seton Hall will host its sixth annual Giving Day led by the Department of Alumni Engagement and Philanthropy (AEP). This initiative, which seeks to bring the entire Seton Hall community together in support of students, has sustained significant success, breaking records last year and raising thousands from more than 2,000 donors. Through the collaborative efforts of University Advancement, Seton Hall Law, and Pirate Blue Athletics, the campaign has seen steady growth since its inception in 2018, and the anticipation of the day continues to increase among alumni, parents, and friends.
The theme of this year's Giving Day is Hall for one, one for Hall. "Our theme this year really speaks to the dedication and loyalty of our community and our alumni," says Anthony Bellucci, M.B.A. '18, Associate Vice President of Alumni Engagement and Philanthropy. "With the success of last year, I am very optimistic that we will go above and beyond once again not just in helping to elevate the University, but to champion the futures and academic careers of generations of Pirates."
In honor of the University's founding year, this year's Giving Day goal will be to achieve 1,856 donors to various funds across Seton Hall. Every gift is vital in creating opportunities for Seton Hall students to thrive and grow into leaders in every field.
To expand the scope of Giving Day and create a presence on the South Orange campus, the Student Alumni Association (SAA) will host an on-campus event on April 19 from 9 a.m. – 4 p.m. on the University Green. The SAA will help to engage their fellow Pirates, encourage participation, and educate other students on the significance of philanthropy and the difference it makes both inside and outside the classroom.
To create buzz and excitement leading up the 48-hour campaign, advocacy is key to garner participation and will be pivotal in spreading awareness about the celebration prior to and during Giving Day. Advocates help to inspire family, friends and Pirates nationwide to join in on the fun and display their Pirate Pride. View the advocate toolkit to learn more about advocacy and how to get involved.
Seton Hall Giving Day is undoubtedly the University's biggest day of giving. The day creates a sense of purpose, uniting the Seton Hall community toward one common goal and one promise: to do everything possible to provide students with the critical resources needed for an exceptional education and student experience. As Giving Day approaches, the University will continue to count on the strength of its community as it strives for another record-breaking year.

Click here to get a head start and make an early gift.
Categories: Alumni