Remembering Alumnus and Regent John Swift, Advertising Executive; Champion of Catholicism and Athletics
Wednesday, January 25th, 2023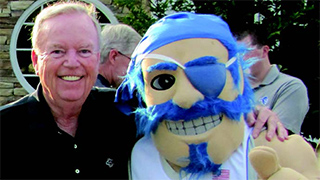 John Swift was a member of the University Board of Regents and a Seton Hall alumnus.
John Swift, member of the University Board of Regents, passed away on January 13 at age 87. A native of Orange, Swift was a proud alumnus of Seton Hall, graduating in 1960 with a B.S.B. in Management. He immediately entered the U.S. Navy, where he served our country for four years, then began to build what would be a remarkable career in advertising for the health care industry.
"John epitomized what it means to be an alumnus," said University President Joseph E. Nyre, Ph.D. "From his humble upbringing, he chose Seton Hall to learn his trade, became a trailblazer in his industry, then returned to Seton Hall to volunteer his time and talents for the next generation. He will truly be missed."
After his Naval service, Swift honed his skills at Lederle International, Robert A. Becker Inc., Chesebrough-Ponds, and L.W. Frohlich. In 1972, he and two colleagues decided to open their own agency, Lavey/Wolff/Swift. Within five years, the agency was billing $30 million and had opened branches in Mexico City and several European cities. In 1976, Swift established the international firm PRISM (Public Relations in Science and Medicine) and he launched a medical education company in London: Advanced Medical Communications.
The advertising network BBDO acquired Lavey/Wolff/Swift in 1977 and Swift soon became president of BBDO/Health and Medical Communications, now known as the HMC Group and part of Omnicom, a leading healthcare holding company. By the time Swift retired in 1994, HMC was the most diversified healthcare agency in the world, with 13 distinct medical operations and annual billings of $350 million. Swift was inducted into the Medical Advertising Hall of Fame in 2004.
In his retirement, Swift returned to his alma mater to share his wisdom and expertise through involvement at the leadership level. As a member of the Board of Regents from 2015 to present, Swift sat on the Advancement, Athletics, and Seminary Board of Overseers committees. He also served on the Alumni Board and University Advisory Council.
"Having served as a Regent for seven years, John contributed tremendously to the University's strategic success, and we are all the better for it," said Kevin H. Marino, Esq., Chair of the Board of Regents. "He was a treasured friend we will dearly miss, but his legacy will be felt for years to come."
Swift's longstanding philanthropy to the University included generous gifts reflecting his top priorities: the Center for Catholic Studies Endowment Fund, the Immaculate Conception Seminary, and the Pirate Blue Athletic Fund.
"The first I met John, he told me that two things mattered to him at Seton Hall: Catholic Identity and Basketball," said Gregory Floyd, Ph.D., Director of the Center for Catholic Studies. "He was a faithful and generous friend, and we will miss him."
Swift's devotion to promoting the Catholic faith was clear in his continued engagement with the Center. He was not only an Overseer and donor; he also participated in Center activities such as faculty retreats abroad.
"He joined us, along with his daughter Sharon, on several trips which we took with professors and students to Rome and to Oxford," recalled Msgr. Richard Liddy, Ph.D., founder of the Center for Catholic Studies and Professor Emeritus of Religious Studies. "He always made sure to attend any Masses that were celebrated with others on these trips. John was committed to the practice of his faith, and I'm sure the Lord has taken care of John through the years and is taking care of him now."
Categories: Alumni, Athletics, Faith and Service