Seton Hall University's Many Are One Gala Celebrates 36 Years and Honors Three Outstanding Alumni
Tuesday, October 10, 2023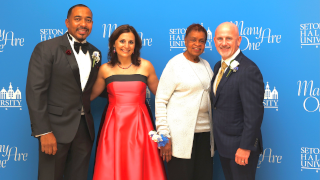 Interim President of the University, Dr. Katia Passerini, standing with this year's three honorees, Patrick Walsh '90 (2023), Dr. Sampson Davis '95 (2021), and Dr. Catherine Alicia Georges '65 (2020)
South Orange, NJ – Seton Hall University held its 36th Annual Many Are One Gala on Friday, October 6, 2023. The evening served as a night of celebration, gathering the entire Seton Hall community together to honor its alumni while raising funds to support current students.
The gala saw an enthusiastic turnout of over 300 alumni and guests that illuminated the room reconnecting, forging new bonds, and rekindling the special camaraderie that defines the Seton Hall experience. Historically during the evening special recognition is given to an individual who is an outstanding leader in his or her professional field. This year, the 2023 Most Distinguished Alumnus Award was presented to Patrick "Pat" Walsh '90, the managing partner and chief executive officer at Withum, one of the country's top 25 advisory, accounting, and tax firms.
Pat is a trustee of the Boys and Girls Club in his hometown of Newark, NJ, a member of the Leadership Council for Habitat for Humanity of Morris, Greater Plainfield, and Middlesex counties. He is also a champion for at risk communities. Pat's long-standing role in the Seton Hall community, his exceptional leadership, and his dedication to volunteering and serving in his local communities make him the model recipient for this year's award and what it means embody the values that are embedded in the mission of the University.
Additionally, the event celebrated two other exceptional alumni: Dr. Catherine Alicia Georges '65, the 2020 Most Distinguished Alumna, and Dr. Sampson M. Davis '95, the 2021 Most Distinguished Alumnus. The two individuals were honored not just for their extraordinary journeys in their careers, but also for their commitment to Seton Hall and its values.
Anthony D. Bellucci, M.B.A. '18, Associate Vice President of Alumni Engagement and Philanthropy at Seton Hall University, remarked, "The Many Are One Gala is a testament to the incredible support and dedication of our alumni. It's a night where we come together to celebrate our shared values and the impact our graduates make on the world. Their commitment to Seton Hall's mission and our students' success is truly inspiring. We are immensely grateful for their generosity, which allows us to provide opportunities for future Pirates."
Jon Paparsenos '99, Vice President for University Advancement at Seton Hall, added, "This year's gala was a resounding success, thanks to the unwavering support of our alumni and partners. Being able to celebrate Pat, and his accomplishments this year was inspiring. His tireless efforts to make a positive impact have left a mark on our institution. He serves as a shining example of the Pirate spirit and his legacy will continue to inspire us all for years to come."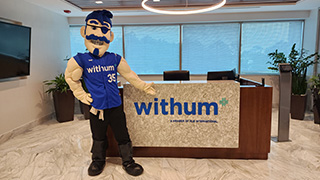 The Pirate at Withum
Paparsenos continued saying, "I am thrilled to have had the privilege of celebrating the remarkable accomplishments of our other two honorees, Dr. Georges and Dr. Sampson, in person this year. Their collective impact, not only on Seton Hall University but also in their respective fields, is nothing short of extraordinary. Their dedication to service, leadership, and excellence serves as an inspiration to us all. We congratulate them both on their well-deserved recognition, and we are honored to have them as esteemed members of the Seton Hall family."
Through partnership with Withum, Seton Hall has introduced a pilot program through the Stillman School of Business, The CPA Pathway Apprenticeship. The apprenticeship aims to give first-hand public accounting experience in exchange for additional credits. Ushering in a new era of opportunity, this initiative promises to make a lasting impact, further enhancing the educational experiences and opportunities available to students.
The tremendous success of the night was greatly attributed to the generous contributions from sponsors, with Withum serving as the presenting sponsor. Vital partnerships such as this played a pivotal role in ensuring the gala's triumph. Furthermore, overall participation and the generosity of alumni to the Endowed Alumni Legacy Scholarship Fund through donations and silent auction bids resulted in a record-breaking year for the gala, raising funds that support current students and helping Seton Hall carry forward its tradition of excellence.
With this kind of overwhelming support this year, more than 21 scholarships were able to be awarded to current students to help them continue their education without worry, fulfill their dreams, and get one step closer to their careers. These resources are helping students learn and grow, giving them tools that help them thrive now and as they prepare for the future.
The 36th Many Are One Gala not only serves as an avenue to celebrate the achievements of esteemed alumni, but it also reaffirms the strength of the Seton Hall community, and how many can truly become one.
The University eagerly anticipates the 37th Annual Many Are One gala set for June 7, 2024.
Categories: Alumni