Beauty for Ages: Honoring the Late Professor Edwin Havas
Monday, October 31st, 2022
"Professor Havas was the model Catholic, family man, patriot veteran, artist, painting teacher, and friend. He is my life's greatest inspiration and role model." – Jorge Valcarcel '88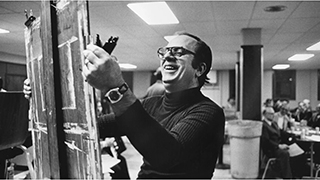 Photo of Edwin Havas
The quote above is just one of the many heartfelt sentiments shared by those that knew Edwin Havas and captures the true essence of his impact in the lives that he touched.
Edwin J. Havas (known as Ed) was a professor of art at Seton Hall University. His teaching career began in 1960 at Seton Hall Prep where he was invited to establish an art course on the campus. For 15 years he taught applied art and art appreciation, lent his time and efforts to various clubs and organizations, and even broadened his focus by extending his craft to designing sets for musicals that were produced by the Prep School.
Havas' tenure at the Prep School is also where his love for watercolors was discovered. This medium became the hallmark by which many of his paintings were completed. Upon leaving Seton Hall Prep, Havas journeyed over to the University's main campus in South Orange, NJ. Over the course of 36 years in total at Seton Hall, Havas taught an estimated 4,000 students, depicted several University presidents in watercolors, painted almost every building on and off campus at the time, and dressed many campus publications with his artwork.
Outstandingly, time and talent weren't the only two ways Havas shared his devotion to The Hall. Since 1987, to some capacity, he displayed his philanthropic support of the University, for various fundraising efforts and campaigns.
Havas' time at Seton Hall culminated in 1996 with a beautiful exhibition of large acrylic landscapes in the Walsh Library gallery. He was also awarded the McQuaid Medal, the University's highest regard for distinguished service of individuals who have served beyond measure and with selfless dedication.
Upon Havas' farewell, Professor Emerita of Art History and Museum Studies and former Chairperson for the Department of Art and Music (ARMS), Petra ten-Doesschate Chu, Ph.D., wrote, "His presence at the University is and will long remain pervasive. Not only has he touched the lives of countless students, alumni, colleagues, administrators, and staff members, but there are few offices on campus that don't have one of his watercolors on their walls." She shared how deeply appreciative she was of Havas for "sharing his art, for his long-time service to the University, and for being a wonderful teacher and colleague."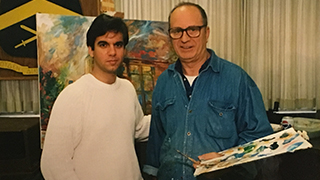 Photo of Edwin Havas with former student Jorge Valcarcel '88
Unquestionably, Havas influenced many within the Seton Hall community including former students like Jorge Valcarcel '88 as the opening quotation illustrates. Mr. Valcarcel noted that Havas was one of his three best friends and that he became part of Havas' extended family. "Ed opened his heart, his mind, and his talent to me," he said. "Even though I will have to wait a bit to see him again, give him a hug, and hear one of his jokes, I see him all the time in the nature that surrounds me."
While the adoration and memories from former students, colleagues, and friends bode well to the artist and teacher that Havas was, the breadth of his impact wouldn't be complete without mention of his wife of 62 years, Judy Havas, who was always by his side whether it be in framing one of his pieces, attending fundraising events, or in helping to organize watercolor painting workshops that Havas hosted in the 1980s throughout the US and Europe. In a 2006 interview with Geoff Gehman of The Morning Call, a leading media company and newspaper in Pennsylvania, Havas honors Judy by saying, "She's done everything in her life to help me be successful. I owe her everything. She's number one in the whole thing."
Edwin Havas' life and work are true illustrations of a kind of beauty that lasts for ages. He served as an inspiration to so many and lived out his life with a passion that's demonstrated in the brushstrokes of the canvases he filled and in the hearts of those who had the chance to get to know him.
A signature member of the American Watercolor Society and a member and past president of the New Jersey Watercolor Society, Havas' work hangs in numerous corporate, public, and private collections including the Montclair Art Museum and the New Jersey Historical Society permanent collections, as well as in the Zhenjiang Museum in Hangchow, China. His paintings have received over 100 awards, including the Grand Prix for Aquarelle in the international competition in Monaco, and the New Jersey Watercolor Society's Silver Medal and Best in Show awards.
Havas was a New Jersey native, raised in Livingston, NJ to Anna and Joseph Havas. In 1947, he proudly served the US Air Force (formerly known as the US Army Air Corps) and was stationed in Japan. Following his military service, he attended the Newark School of Fine and Industrial Arts.
Havas passed away peacefully at home on February 3, 2019, surrounded by family.
October is considered National Arts Month. To make a gift in celebration of the life and legacy of Edwin Havas, click here. All funds will go to supporting the arts at Seton Hall. Please be sure to indicate that your gift is in memory of Ed Havas.
Categories: Alumni, Arts and Culture