The Eucharist and the Campus: Join ICSST for Daily Advent Meditations
Tuesday, November 22nd, 2022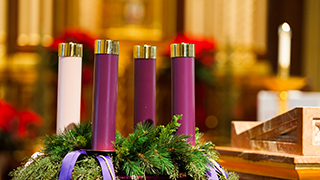 For Catholics around the world, the start of the Advent season marks an ongoing preparation of hearts and minds in the days leading up to Christmas.
In preparation for this season of hope, love and joy, Immaculate Conception Seminary School of Theology (ICSST) invites the Seton Hall University community and others interested to reflect and pray together through its annual Advent reflection series, this year titled The Eucharist and the Campus: Daily Advent Meditations.
Reverend Monsignor Joseph Reilly, S.T.L., Ph.D., former Rector/Dean, and Dianne Traflet, J.D., S.T.D., Associate Dean for Graduate Studies and Administration and Assistant Professor of Pastoral Theology, will offer a reflection each day delivered via email starting on the first Sunday of Advent, November 27, continuing through Christmas Eve, December 24.
This year's series will offer images from Seton Hall's main campus in South Orange, New Jersey, inviting participants to spiritually journey through this beautiful season with the Holy Sacrament as a reflective focal point.
To subscribe, please visit the Advent Series registration page.
Since 2019, ICSST has offered reflection series during the Advent and Lenten seasons, bringing more than 1,900 subscribers together including Seton Hall students, faculty, staff, administrators and other members of the surrounding community from near and far to join in a union of prayer and reflection during these key liturgical seasons.
About ICSST
Immaculate Conception Seminary is a House of Formation for the Roman Catholic priesthood and the School of Theology of Seton Hall University. As a House of Formation, the Seminary offers men preparing for the priesthood the personal, academic, ministerial and spiritual formation essential for their conversion to Jesus Christ and for their commitment to a life of service to the Church.
As a School of Theology, the Seminary provides a theological and philosophical foundation for men and women pursuing undergraduate and graduate studies; preparing for ministries among the people of God; and varied opportunities for continuing theological education.
Forming priests for God's people has remained the Seminary's constant focus, and the Seminary faculty—well-educated authors and scholars in their own fields—devote their time and energy to preparing these men for priesthood amidst the challenges of the 21st century. The School also focuses on the education of lay men and women in theology, permanent deacons, religious who are not studying for ordination, and already-ordained priests—not only providing for them academically, but also for their personal, pastoral, and spiritual formation.
Categories: Faith and Service