Singer, Theologian and Warrior in the Fight Against Addiction
Thursday, June 14th, 2018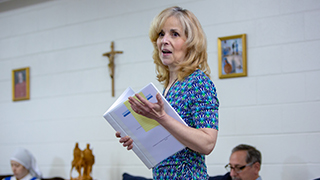 Keaton Douglas was a vocalist of some repute and range. Noted for her versatility, she regularly performed operatic works, jazz ballads and Big Band swing in some of the finest venues in the country, including two presidential inaugurations, a number of top-line hotels in Las Vegas and Atlantic City, Virginia's Busch Gardens, New York's Birdland and, as a lead vocalist with the New Jersey Pops Symphony Orchestra, all throughout the Garden State.
A lead singer in the Guy Lombardo and the Royal Canadian Orchestra, she appeared with Jerry Vale, Al Martino, Julius LaRosa, Buddy Greco, Rio Clemente, Bob Newhart and Drew Carey. She was, by all accounts, an accomplished vocalist with a resume that speaks (or sings, as it were) for itself.
But Douglas was called to more.
And that calling brought her to the Master of Arts in Theology program at Immaculate Conception School of Theology. In a recent conversation with the School's Associate Dean, Dianne Traflet, J.D., S.T.D., Douglas noted that she had begun to speak to various Church audiences about her experience in "finding her way back to the cross." She would tell the story of how she had been "put back together" through her faith and the joy she had found in being a "re-vert."
Powerful and well received, her talks, however, were sheerly the talk of personal journey. She gave witness to the power of faith in her life, and that witness was moving. But when people asked for more – if she could, for example, return to speak on topics such as how her journey relates to St. Paul's themes of forgiveness in his Epistles – she had to respectfully decline, as she "had no background in theology."
Coincidentally, she saw an announcement in The Beacon for a one-day seminar at Seton Hall on "Spiritual Theology & Public Speaking." She called to sign up for the class but soon found that the timing of the seminar conflicted with her work schedule.
Perhaps sensing something more, Dean Traflet and Diane Carr, coordinator of graduate admissions at the School of Theology, invited Douglas in for an interview.
After a two-hour conversation, they all decided that there was, indeed, something more. And when Keaton left the office and was introduced to the School's new Dean and Rector, Msgr. Joseph Reilly, S.T.L., Ph.D., it was as a graduate student "gung-ho" to be pursuing her master's degree in theology and taking her first class.
Coincidentally, on her second day of class, she met a seminarian who would come to bring her to her next "something more."
That seminarian, Brother "Aro," said "you look like you need a friend." He was a Missionary Servant of the Most Holy Trinity, serving out of the Shrine of St. Joseph in Stirling, New Jersey. "Aro," who was later ordained as a priest and is now Fr. Arokiaraj Varnabas, S.T., introduced Douglas to the community at St. Joseph's and it was there that her next calling came.
Founded nearly a hundred years ago, the international community of the Missionary Servants of the Most Holy Trinity uses its 39 missions to work with the poorest of the poor, the marginalized— and the addicted.
St. Joseph's serves as a regular meeting place for 12 step recovery groups such as AA and Alanon, holds "recovery mass" and uses its campus for "recovery retreats." The retreats give those in recovery from alcohol and drug addiction a chance to focus on and strengthen their recovery as they cultivate their spirituality over a period of days amidst the wooded acres of the Shrine.
Douglas "found a home" at St. Joseph's, and as she became further enmeshed within the community, she was one day asked to speak to a group of women on retreat from a treatment facility; the women suffered from substance abuse disorders. Douglas balked.
Yes, she said she had "witnessed" before, and yes she had a story that people had found compelling. But she had never suffered from addiction, nor had anyone in her family. She didn't see how this could work, how she could be relevant.
She recalls, "The gentleman who was running the recovery programs at St. Joseph's at the time put it plainly. He said: 'These folks aren't only going to speak with other addicts and alcoholics the rest of their lives— is there nothing they can learn from you?'" Douglas was taken aback.
He then said, "Do you think that there is nothing you can learn from them?"
It was a humbling moment for the renowned vocalist with an M.A. in theology; she shared her story with the women.
She told how she had been broken, how she had been healed, her witness, her joy and her faith. And as she spoke she started to cry.
When she looked up from her tears she saw "that each of those beautiful women were crying too. And later, when I talked about the joy of healing and I laughed, they laughed too.
And I realized that the driving truth was not the fact that they were alcoholics and addicts and I was not; the fact was that we had all shared in the commonality of being broken at some point in our lives. And that was what mattered."
Her talk that day went so well that she was invited to become part of the team that worked with women in treatment on retreat at St. Joseph's.
And it wasn't just the women in treatment for whom the day went well.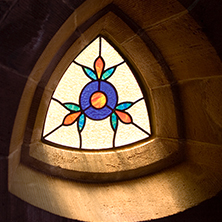 Douglas says she left the Shrine "with a feeling of euphoria," adding, "I don't think I'd ever felt like that before or since. I felt something change in me."
"Thoroughly beside myself, I called a close friend from the Legion of Mary," said Douglas, "and she said it sounded like I had received my calling. It took me a moment to register, but as I thought about it, I knew she was right."
And so it was the vocalist received her vocation.
She continued to work with women in recovery at St. Joseph's, leading weekend retreats that focused on the 12 Steps and spirituality. "There I had the privilege of spreading the love of the Gospels – spreading the love of Christ through the teachings of the 12 Step program of recovery in AA – which is based on scripture: the Sermon on the Mount, First Corinthians, and the Letter of James are all primary sources for those steps."
As the years went by and one of her mentors at St. Joseph's retired while another left on sabbatical, she found herself with additional responsibilities and ultimately was named program coordinator for the addiction recovery initiatives at St. Joseph's. She retired from singing in 2014 to allow her to focus on her calling.
But with death and devastation mounting daily in the opioid crisis, Douglas knew, again, she had to do more. First she prayed.
Then she created I THIRST, which is an acronym for "The Healing Initiative—Recovery, Spirituality, and Twelve Steps." And, of course, some of the last words of Christ on the cross.
Douglas said, "If you know someone who has a problem with addiction, you know what a terrible cross it can be. The physical compulsion can be relieved relatively quickly. But much of the addict's suffering is spiritual in nature," said Douglas. "So I THIRST offers a spiritual solution."
I THIRST seeks to give people in recovery the spiritual tools they need to stay clean and lead the faith-based fight against substance-use disorders, especially opioid addiction. It also educates the clergy and laity about substance abuse disorders so that the Church might be a resource for the afflicted and their families. Called Catholic Recovery Coaching, participants are trained to mentor individuals in recovery and work with their families.
"Training includes the development of a recovery plan for the individual, while focusing on Catholic spirituality and how that spirituality can help individuals navigate their own lives by practicing prayer, turning one's life to God, creating a moral inventory and learning and keeping close to the Sacramental life of the Church," explains Douglas.
There is also a monthly Mass for people in recovery and their families. The homily is tied into Scripture and the 12 Steps. A Recovery Bible study is held weekly.
All of these facets of the program are intended to supplement traditional treatments and are not considered a replacement. The program provides spiritual guidance and tools for those in treatment or in early post-treatment facilities.
And so far, the program is working and, because of its success, is now in expanding to other parts of the country.
Douglas has taught the I THIRST program of pastoral care for addiction to clergy and laity in the Archdiocese of Boston, and is scheduled now to do the same in Maryland and then Costa Rica, where she'll teach the men in formation in the community of priests and brothers of the Missionary Servants of the Most Holy Trinity.
"Far too often, the first meaningful contact with the addict and their family is at the funeral. I am prayerful that someday every diocese might have an I THIRST trained representative so that we might be of more help to the afflicted and their families by offering guidance, community, a path to recovery and spiritual consolation," said Douglas. "The devastation which is addiction is spreading throughout every corner of the country— we must too."
One participant in the program who has found a long-sought success in abstinence said, "This time in recovery, I have built a relationship with God and have a better understanding of Him. I gave my life over to His care. The transformation has been unbelievable. For now, I don't have any cravings for drugs or alcohol. God has relieved me of that compulsion."
For Keaton Douglas, that itself is something more.
Those interested in learning more about the I THIRST program and how they can receive training or help are encouraged to visit ITHIRSTINITIATIVE.org, contact Keaton at [email protected], or call 973-370-DRUG (3784).